Are you looking for a little inspiration for this upcoming Fall season? The leaves are already beginning to change colors where I live and a few are even beginning to float sweetly into the yard. When I see that I can't help but think about fun Fall crafts. In this post I've listed 50 Fall craft ideas that you can try out at home. Many are kid friendly!
**As an Amazon Associate this post contains affiliate links and I may be compensated a small portion if you choose to purchase something through them. This is at absolutely no extra cost to you.**
Notice: I recommend bookmarking this page so you can keep looking at this list for reference. There are a LOT of cool crafts here from all across the web! The links to each craft will open in a new tab.
#1. Pumpkins
Naturally with Fall comes the thought of pumpkins, pumpkin spice, and even some fun in the pumpkin patch with little ones. At least that's what I think about. Pumpkins are a staple of the Fall season and what better reason to craft some darling pumpkin creations!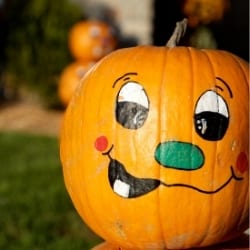 Pumpkin Craft Ideas
#2. Leaves 
Leaves are one of the greatest parts about Fall. They change colors and become something artful and gorgeous. While they are dazzling to gaze at they also make fun fall crafts that you can use to decorate your home and more!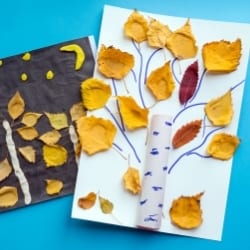 Leaf Craft Ideas
#3. Wreaths
Wreaths date back to ancient Greece and symbolize eternity. They have no beginning and no end.  They also make beautiful Fall decor that can liven up any home and create an inviting atmosphere.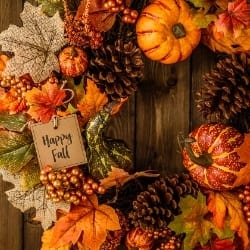 Wreath Ideas
Felt Wreath
#4. Candles
Burning candles in the Fall can be amazing and mentally beneficial. There is nothing like the soothing scents of Fall to ease your mind. Candles also make very lovely decorations and can be fun to craft!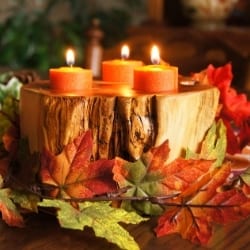 Fall Candle Ideas
#5. Scarecrows
Scarecrows can be more than just a decoy to scare away pesky birds. They can make for great Fall themed decor. When you create a scarecrow yourself you can be as crafty as you want! They can be spooky or cute it is totally up to you! Personally, scarecrows are one of my favorite fun Fall crafts.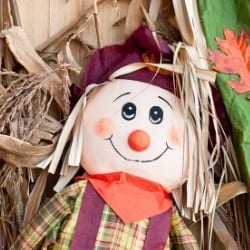 Scarecrow Craft Ideas
#6. Cornucopia/Centerpieces
Cornucopias are a Fall tradition that represent the harvest. Also known as the horn of plenty, a cornucopia makes a lovely centerpiece and stunning Fall decor. Fill your own cornucopia with fruits, flowers, or goodies to liven up your dining table.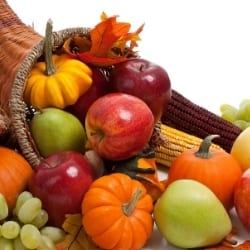 Cornucopia/Centerpiece Ideas
Bouquet Cornucopia
#7. Halloween Fun Fall Crafts
Halloween is a Fall favorite for many. Treats, candy, and fun decorations are abundant when Halloween rolls around. Why not create a few yummy and spooky creations of your own?!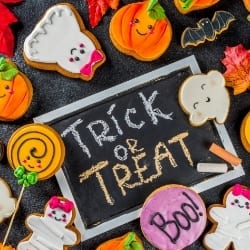 Halloween Craft Ideas
#8. Thanksgiving Fun Fall Crafts
Thanksgiving is the favorite holiday of many and for good reason! Delicious feasts, yummy treats, and good times with friends and family. You can make Thanksgiving even more special by adding some unique crafty touches!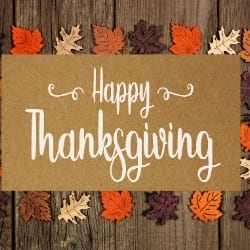 Thanksgiving Craft Ideas
Bonus "Fun Fall Craft" Ideas
Here are some extra Fall ideas to keep you busy this season!
Fall Trail Mix
I hope that you've enjoyed reading about these fun Fall crafts and are able to give at least a few of them a try. May your Fall season be joyous and fun filled!
All credit due to these fantastic creators!
If you enjoyed this post, check out some of these other crafty posts!
Top 10 crafts to make and sell online for money
20 Resin craft ideas to make and sell
Post updated 2/11/2021