Are you looking for new ways to inspire your kids to eat vegetables?  It's so difficult. 
Perhaps you've tried hiding the vegetables in soup or tomato sauce.  But, like little bloodhounds, those kids sniff them out.  Nope – trying to fool them just doesn't work and makes them more distrustful of other new foods.
But here's a really fun way to get your kids cooking and eating vegetables:  try a spiralizer!
What is a Spiralizer?
A spiralizer takes a fruit or vegetable and turns it into long thin ribbons of perfect swirls of color.  Do a little cooking, add your sauce and you have a perfect meal, fit for the fussiest toddler!
And not only does the meal look a riot of color, it's a lot of fun to prepare AND it brings out the best of the flavor in the vegetables.
 Learning to Love Vegetables
Every adult remembers their parents telling them to eat up their vegetables.  They're good for you.  They make you grow big or they make your hair curl.
Nobody wants to be told what to do.  It's much better if we can make our kids want to eat their veggies.
So, take a look at a spiralizer and see how beautiful it makes the veggies look.  Teach the children how to make them into really long ribbons or into great shapes and they'll become invested in the meal.  Lo and behold, they'll want to eat those veggies!
Easy Vegetable Dishes for your Kids to Help You Cook
Depending on how old your child is, you can get them to help you cook.  There is always something a child can do: wash the veggies, dry them, put them into a bowl.
It's quick and easy to prepare. Choosing the color vegetable to eat makes it their creation and so easier for them to swallow. (Ha ha!)
If they're old enough they can do the spiralizing.  It's a lot of fun for the children to pull the spirals into a long line.  Who has the longest one? We like to dry our zucchini and the kids can have great fun doing that part of the work.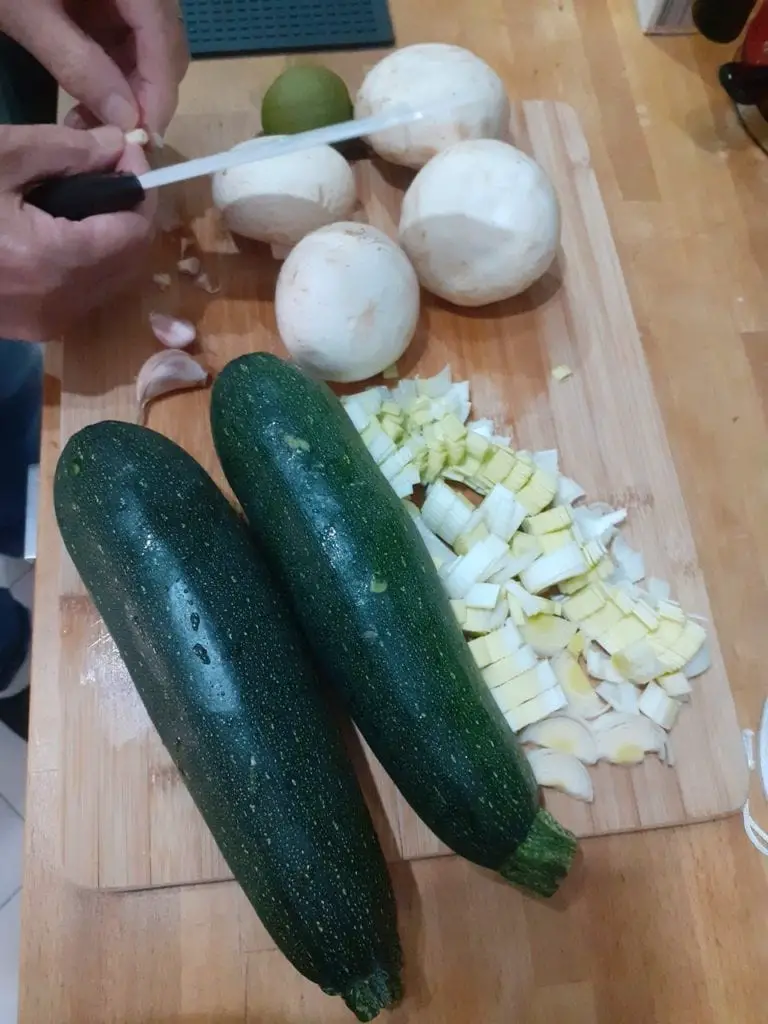 You might try stealing some of 'their' vegetables to make them more desirable. Or tell them they're not allowed to eat them.  There's nothing like a prohibition to make something incredibly alluring!
Super-easy Vegetable Recipes for Kids
You can make SO many different meals from the basic recipe.  All you do is choose a vegetable (that is going to take the place of pasta).  Spiralize it and cook it in a spoonful of oil and its own liquid.  (Instructions for today's recipe below.)
Make the basis of a sauce by frying up onions or leeks and garlic.  Then add your chosen vegetables cut into chunks, such as tomatoes, mushrooms, pumpkin, cabbage or asparagus.  If your kids don't like lumpy things, whizz the sauce with a blender until smooth.
You can add any protein the kids fancy such as beef (for a sauce bolognaise), fish, chicken or even some grated cheese!  Finish off with different garnishes, such as cilantro, parsley, nuts.
Here's the Recipe for Zucchini Spaghetti
Ingredients:  for 2 adults and 2 children
3 medium to large sized zucchini (or more if you want)
1 tablespoon of butter or olive oil (if you prefer)
Tools
Preparing the spaghetti:
Wash the zucchini and dry them.  Cut off the knobbly ends.  If you want to you can peel them but I never do because I like the color it adds to the dish – a perfect edging of green plus the extra vitamins.  Fit the zucchini onto the spiralizing attachment and then spiralize.  (It seems like magic so be sure to get the children to watch!)
Take the spiralized zucchini out of the holder and spread it out to dry it.  (This is a great job for children.)  My husband dries it on paper towel but I prefer drying them by rolling them up in a clean tea towel.  (Some people don't dry them at all!)   Put it into a bowl ready to use.
The Sauce Ingredients:
1 clove of garlic (if your kids don't object to it)
2 tablespoons of olive oil
2 handfuls of frozen or fresh prawns (optional)
A handful of fresh cilantro (coriander leaves)
1 – 2 cups of vegetable or fish stock (you can use stock cubes or mini stock pots)
Tools
A thick bottomed saucepan or frying pan
Wash and then chop up the leeks/onion and garlic
Wash and chop the mushrooms and cilantro (or the ingredients of any alternative sauce that your kids might have chosen) and leave on one side. 
If you want to make any other sauce then just substitute a different ingredient.  For example, tomato sauce goes down well with children so add tomatoes or even easier, just pour in a tin of tomatoes or a carton of passata and adjust the amount of stock that you add. 
For a really simple recipe to start with, you could chop up some apples and simmer them until soft.  Then mash or blend them into an apple puree, perhaps with a little honey and simply serve the apple sauce on the zucchini spaghetti.  You can tell the children it's what the Swiss eat when they're up in the mountains.  (It's like the classic  Älplermagronen or Mountain Macaroni.)
Cooking the sauce:
Put the tablespoon of oil or butter into a non-stick pan on a medium heat.  As it heats, add the chopped leek or onion and garlic.  Stirring from time to time, fry it gently until the leek or onion are beginning to soften. 
Add the mushrooms and prawns (if you're going to use them) and fry gently for a couple of minutes.  If necessary add a touch more oil or butter until they are starting to get golden bits on them.  (Adapt this step according to your chosen ingredients.)
If you're going to blend the sauce to make it smooth, then remove the prawns if you've used them and put them on one side and tip in the vegetable or fish stock.  Blend the vegetables until a thick sauce consistency. (Omit this step if you're happy with a sauce with pieces of vegetables in it.)
Allow the sauce to cook on a low heat, giving it a quick stir now and then, whilst you cook the zucchini spaghetti.
Cooking the zucchini spaghetti:
Using a big non-stick pan (I use our ceramic frying pan), gently heat the second portion of oil/butter.  Add the zucchini, and on a medium heat, spread them out.  Keep moving them round the pan, turning them over from time to time. 
Water will ooze out of the zucchini.  Allow it to evaporate by turning it over.  The zucchini is done when its water has just about bubbled away but before the zucchini has browned.  It takes about 3 or 4 minutes or a bit longer according to how much spaghetti there is and how well done you like your vegetables. 
Putting your Delicious Meal Together
Go back to the sauce and add back the prawns or any other cooked protein you've chosen.  Check that all the ingredients are cooked and hot.
Add in any salt and pepper to taste.  Sprinkle in a little of the cilantro.  If you want a cream sauce, then stir in the cream and mix it whilst heating it gently without allowing the sauce to boil.  Keep stirring until the cream is thoroughly mixed in and hot.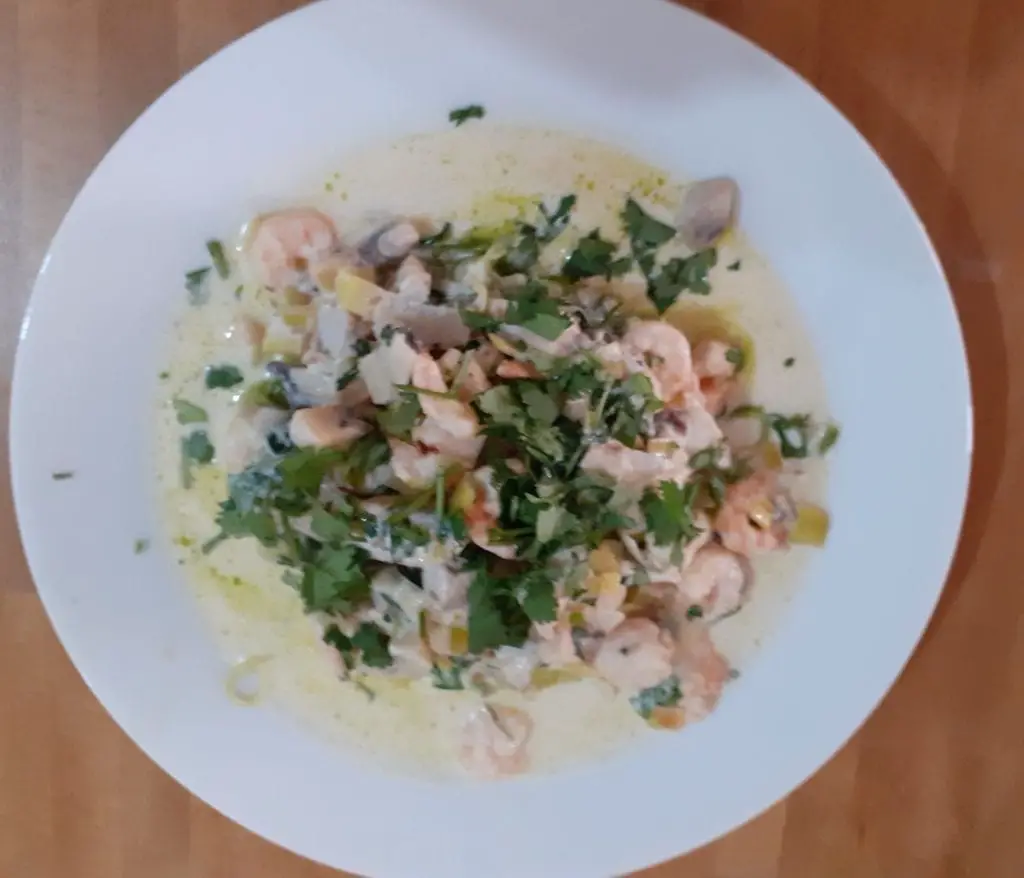 Serve the zucchini onto plates or bowls and ladle the sauce over it.  Sprinkle each serving with plenty of cilantro and if you wish, add in a squeeze of lemon.
Enjoy!
Inspiring Spiralizing for Family Cooking Fun
If you haven't eaten spiralized food, you're in for a treat. (Never mind the children – it's fun for grown-ups too!)
It's really satisfying to cook dinner with the kids, even if they spend a lot of time playing with the 'spaghetti'.  Making food together is an incredibly bonding activity and the kids will learn loads!  Plus, try sneaking in some lessons about vegetables.
Even if the children don't eat the results, if you keep trying, they'll get the hang of it.  (Well, perhaps not always, I have to confess that my son never has and will not eat onions although he concedes that he doesn't mind them if they're blended in and he can't see them!)
Aim to have fun making zucchini spaghetti and be sure to have lots of laughs when you eat them too, and your kids will be inspired into loving their vegetables.
About The Author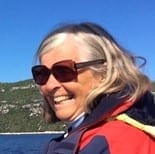 Rosemary Bointon is a certified content writer who helps people work out what to do now to live longer, in better health, with more fun and adventures. 
You can find all her contact details on: https://linktr.ee/RosemaryLonglifeFunLife
---
If you enjoyed this great recipe post, you may like some of these others!
The Best and Most Decadent Homemade Pumpkin Cookies Recipe Ever
Delicious Savory Sausage Potato Bake With Cream Cheese