Hey everyone! I'm getting in the holiday spirit at the Sincere Mommy blog. I have been making plenty of crafts and planning fun activities. I had a lot of fun recently making a fun holiday coaster from resin. It was kind of a spur of the moment thing, but it turned out so nice! I really want to share it with you and tell you how you can easily make your own.
As an Amazon Associate this post contains affiliate links for which I may be compensated a small amount if you should click and purchase something through them. This is at no extra cost to you.
First you need a coaster mold!
You don't have to have anything fancy, but just a coaster shaped silicone mold of some kind. If you do a search on Amazon you can find tons of these.
My personal favorite mold to use is the diamond round coaster. It has a beautiful diamond like edge that is really pretty.
Mix Clear Epoxy Resin
Simply mix clear epoxy resin to get started. I made about 20 milliliters which was just enough to coat the bottom of my mold with a thin layer.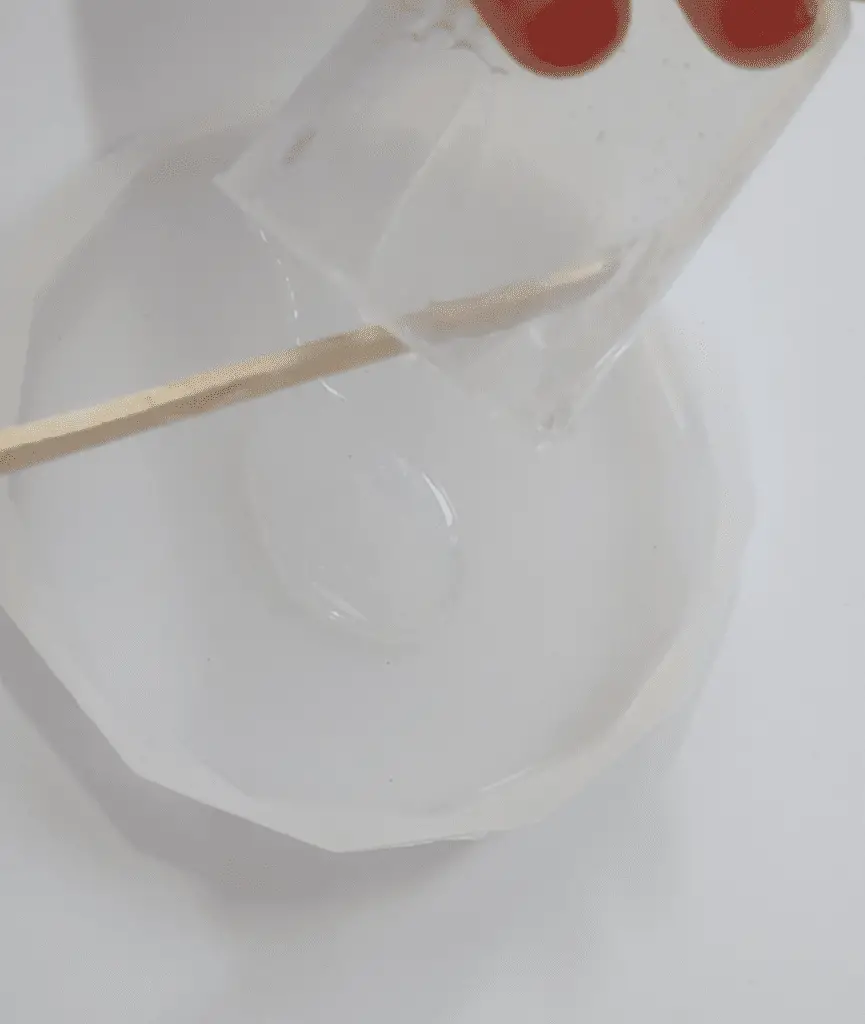 Using a silicone brush I spread out my resin evenly.
Use Puffy Stickers & Ribbon
So I knew I wanted to make a holiday themed coaster but I wasn't sure what to put in it. I was rifling around my random Christmas knick-knacks and found these puffy plastic wall stickers and shiny Christmas ribbon.
They worked perfectly! I picked out what I liked and placed them face down in the resin layer. I used a popsicle stick to help position them.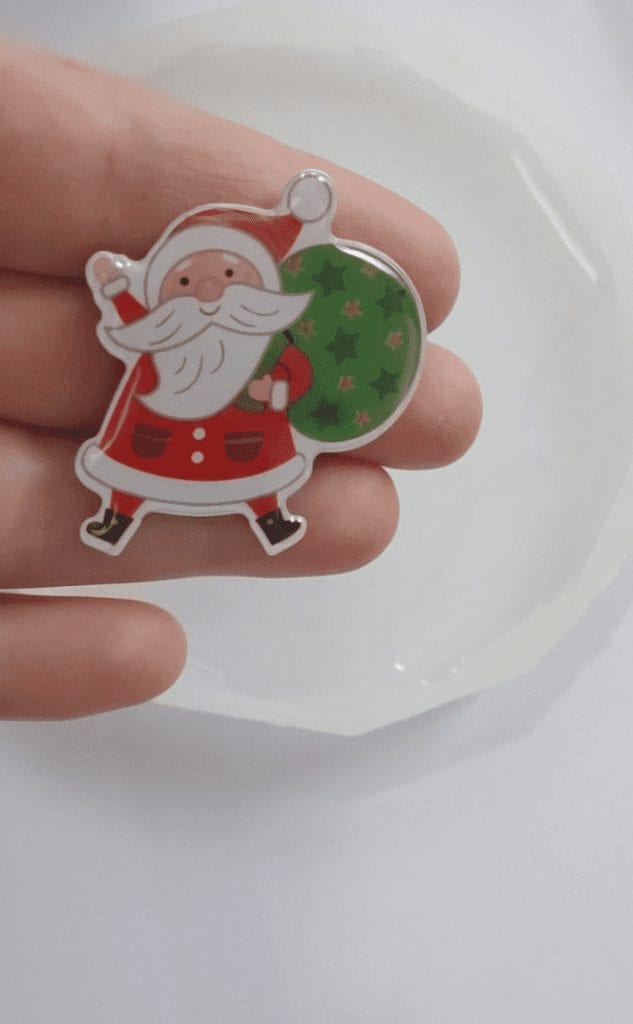 For the ribbon I just cut it into bits and made sure to put the shiny side face down so it would show on the front.
Let It Cure, Let It Cure
A little Frozen humor there. If you have kids you'd understand. Anyway, I let the first layer with the puffy stickers go ahead and cure for a day. The resin I used actually cures in about 8 hours, but I like to wait a full day out of habit.
I recommend touching your resin piece with a gloved hand to check if it is completely cured and not still sticky. If everything was mixed properly you shouldn't have any issue. Especially with such a thin layer.
The Second Layer
My goal was to have a clear front face so that you could see the puffy stickers really well, but I also wanted a colorful look.
For the second layer I used Crayola kids paint that was green with glitter. I mixed around a half teaspoon of it in about 40 milliliters of resin. Once I stirred it in the resin was such a pretty color!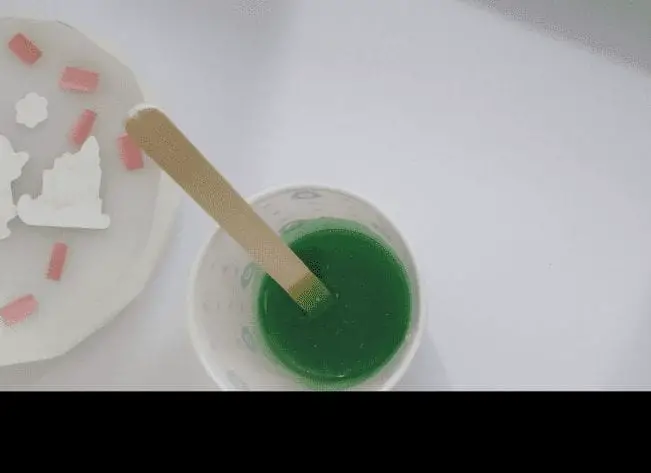 I poured in the glitter paint and kind of just rolled the mold around gently until it was coated.
Let It Cure Again
Allow another day for the final curing process. I was a little worried about how the resin would cure with the paint mixed in just because it seemed a little more liquified and less thick than usual. To my surprise it cured just fine and hardened really well!
I will be using the kids paint more often in my resin work. They have such pretty colors and they are super affordable.
Demold The Fun Holiday Coaster
After the coaster is completely cured you can demold it! I was happy to see that because I laid the stickers and ribbon in the clear resin first that I could see them really well. The green did not overshadow the stickers at all and the coaster overall was so pretty!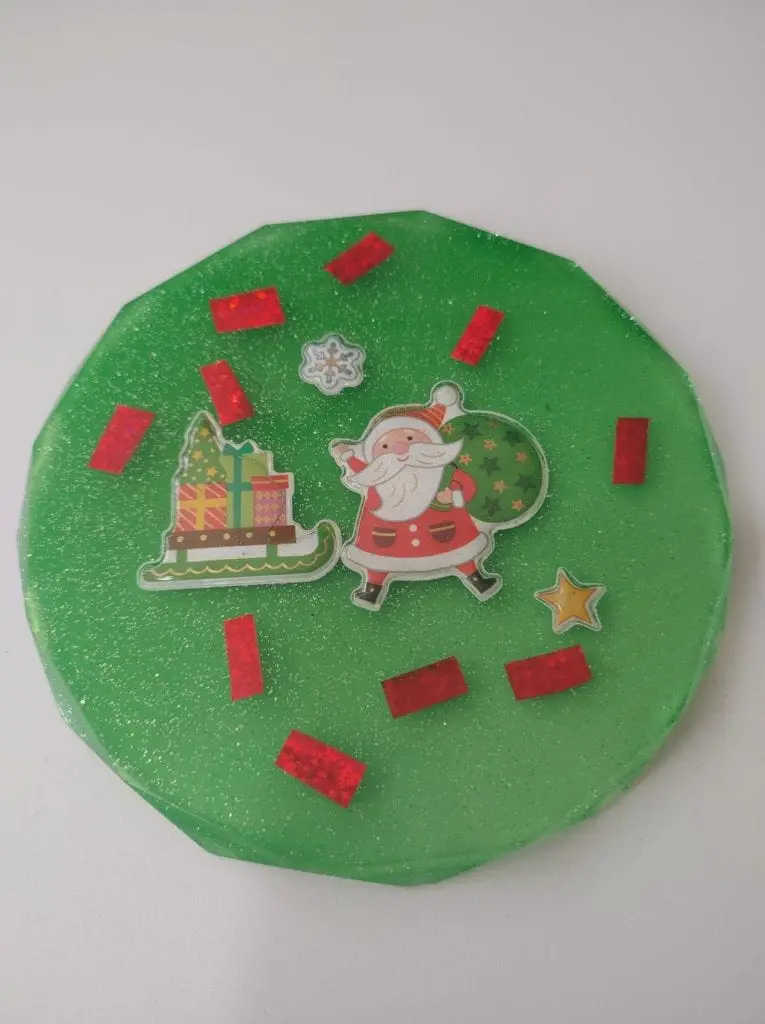 I definitely will be making more of these in the future with different stickers and colors. You could even make an ornament by using a smaller mold and simple drilling a hole at the top. Add a hook and voilla!
Feel free to show me your creations and send them to sincere[email protected] for a chance to be featured on the website.
If you liked this post, then you may like a few of my others!
Gift Guide For Resin Lovers All Under 10 Dollars
9 Superior Tips For Resin Art Beginners