Valentine's Day can be a really fun day filled with goodies and chocolate covered everything! This year I wanted to come up with something fun, tasty, and that my kids could help with. Then I came up with the perfect easy marshmallow treat that we could all enjoy. Without further ado let's see how to make these addictive and easy Valentine's Day marshmallow treats with sprinkles!
What you will need
For this Valentine's Day treat you will only need a few simple items to get started. Many of these you may already have in the pantry! Let's take a look!
Ingredients
Regular Jet Puffed Marshmallows
Candy Melts
Pretzel Sticks
Sprinkles
Equipment
Candy Melting Pot
Parchment Paper
Paper Plates
Stirring Spoon
Setting Up
The set up for this addictive marshmallow treat is pretty straight forward. I wanted something that would be fun and easy so that my kids wouldn't have to depend on me to do everything.
My daughter loves to help in the kitchen as many children do. She enjoys when she can complete a recipe all on her own so I tried to come up with something that doesn't require a ton of technical steps and adult supervision.
Although, this treat still requires an adult simply because it CAN get messy any time that melted candy wafers are involved.
Roll Out Parchment Paper
To get started you can set up your resting area for the finished marshmallow treats. I simply rolled out a long piece of parchment paper on my countertop.
The parchment paper makes a great place to sit your finished treats so the candy coating can dry and harden to perfection. The treats won't stick to the paper.
Heat Up The Candy Melting Pot
Simply heat up your candy melting pot to get it prepped for your candy melts. I used the high setting on my Wilton Candy Melting pot. So far it has been a great investment.
It has a silicone basket that is removable and has a pouring spout which is so helpful for drizzling. Once the pot is well heated you can add in your chocolates. I chose red and pink candy melts for nice Valentine's Day colors.
Stir the chocolate candies to make sure they are fully melted and essentially fluid like.
Double Boiler Alternative Method
If you don't have an electric candy melting pot you can use a traditional double boiler method. Simply take a larger sauce pan and fill it half way up with water. Let it come to a simmering boil on medium heat over the stove top.
Place the smaller sauce pan into the water and then add in your chocolate melts. Once they are melted nicely remove them from the heat.
Overcooked chocolate will go from shiny and smooth to lumpy and dull looking.
Spear The Marshmallows With Pretzel Sticks
Figure out how many Valentine's Day Marshmallow Treats you will be wanting and begin spearing the marshmallows with the pretzel sticks.
Once they are stuck with the pretzel sticks you can stage them on a paper plate.
Dip The Marshmallows In The Melted Candy Chocolate
I preferred to do this step simply because it got a little messy otherwise. I simply rolled the end of the marshmallow into the melted chocolate.
Don't dip the marshmallow for too long because it will melt after a little while which makes it harder for the chocolate to stick. I didn't have much issue with this, but I imagine if your chocolate was overheated it could be a problem.
I only coated about 1/2 to 3/4 of the marshmallow before laying it on a second paper plate to add the sprinkles. We were lucky enough to snag a cool sprinkle jar with several different Valentine's Day themed sprinkles.
Serve and Enjoy Your Valentine's Day Marshmallow Treat!
Place the marshmallow treat onto the prepared parchment paper to dry and harden. The melted candy coating will become a nice shell coating.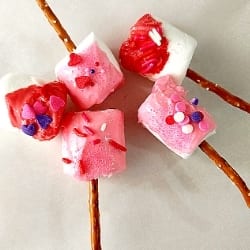 Once all of your treats are dried and hardened you can serve them up as a fun snack or dessert!
My kids absolutely loved them and they looked adorable. This is such a simple treat to make and fun too! You can decorate and drizzle the chocolate in combination to come up with unique looks if you like.
I hope you enjoyed this Valentine's Day Treat tutorial!
If you liked this treat feel free to leave a comment about how yours turned out! Feel free to send pictures to [email protected] if you like as well for a chance to be featured on my site.
I hope you have a happy Valentine's Day! What is your favorite Valentine's Day treat?
If you liked my post, you may also like this one!