I am super excited for Summer and recently I took an interest in sprucing up my yard and garden. I was exploring the idea of getting a birdbath, but decided to make my own. This project is actually super simple and it looks really nice! Let's fly right into this DIY birdbath fountain made with terracotta pots.
*As an Amazon Associate this post contains affiliate links. This means I may receive a small commission fee if you should click and purchase anything through them. This is at no extra cost to you.
Getting Started
The supply list for this project is quite short. This is an easy project that anyone can do!
What you need to get started with the DIY birdbath
Terracotta pots
Paint
Heavy Duty Gorilla Glue
Optional Solar Powered Pump
Paint The Pots
It is extremely important to note that some paints are toxic to birds so I highly recommend using a bird safe paint.
I personally used RustOleum spray paint which is safe once it dries. This brand is certified bird safe, lead free, and non toxic.
Definitely avoid paints that are high in metals such as lead, copper, and zinc.
In addition, most latex and acrylic paints are safe for our feathered friends as well. I chose shades of sky blue, but you can definitely mix things up how you like.
For my DIY birdbath fountain made with terracotta pots I used 4 pots and one large plant saucer.
I spray painted the pieces outside and let them sit overnight to dry properly.
Assembling Your DIY Birdbath Fountain
Honestly you can do this in a variety of ways, but I had a lot of success using heavy duty gorilla glue.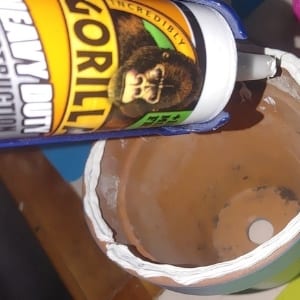 I used the kind that comes in a caulking tube for easier application. This gorilla glue is good for ceramics and outdoors so it is perfect for terracotta.
For the base of the DIY birdbath fountain I used a larger pot flipped over. Then for the next 3 medium pots you rotate them opposite.
So it will be large pot flipped over with the base facing up, a medium pot with the base touching the large base, a medium pot with the rim touching the medium rim, and another medium/small pot with rim touching the medium rim. Then glue the large plant saucer to the medium/small rim.
In short…base to base, rim to rim, rim to rim, and saucer.
(Don't worry I have visuals to show you. It is not remotely as complicated as it sounds!)
Be sure to use a heavy bead when gluing the bases and rims of the pots. A little bit of excess glue can easily be wiped off and even repainted once it's dried. The goal is to get everything well adhered.
Let The DIY Birdbath Fountain Dry For 24 Hours
The gorilla glue sets up extremely quick, but I definitely didn't want to take chances with my pots coming apart. I highly recommend at least letting everything set up overnight before trying to move the birdbath fountain.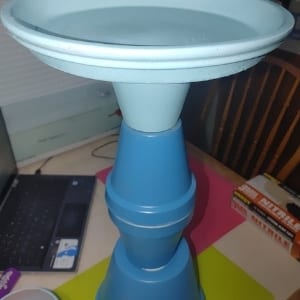 To move the birdbath I recommend picking it up from the base and then gently gripping it by the center. I would not suggest picking it up by the saucer.
Even though the gorilla glue worked like a charm I still feel like gentle care is required at least to get it placed outside.
You can optionally seal the birdbath. I personally chose not to. I plan on just bringing it in for the cold Winter months.
Optional Solar Powered Pump
If you want to keep your water circulating and add a fun little low maintenance effect you can opt to get a solar powered pump for it.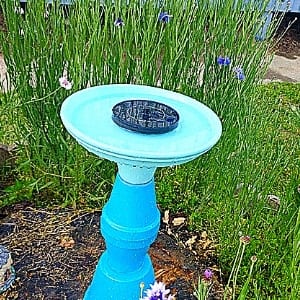 These are pretty inexpensive and they are powered simply by sunlight and even come with multiple attachments so you can customize the water streams.
I placed my birdbath fountain on a stump in my yard. I originally wanted the stump removed, but decided to spruce it up instead.
Honestly I really enjoy the look of it now and this birdbath really became a lovely focal point for my garden.
Use Your Creativity
When crafting a DIY birdbath fountain made with terracotta pots the sky is the limit when it comes to creativity. You can certainly use any combination of colors you would like.
Just remember to make sure the paint you use is bird safe!
If you have a Cricut or cutting machine you could even add some outdoor vinyl cutouts to make your birdbath even more unique.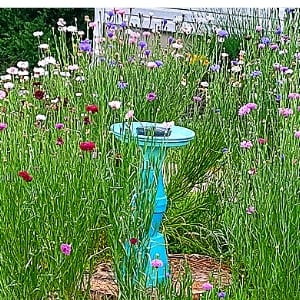 You are also welcome to experiment with pot sizes and the overall construction of the birdbath. Feel free to email your ideas to since[email protected] for a chance to be featured on my website!
I would love to see what kind of birdbath fountain you come up with.