If you're a craft addict like me you are going to love this post! In this article I am going to be sharing with you some incredible summer inspired crafting projects to try. I can't wait to get into this awesome lineup and bring some summertime inspiration your way! Let's begin!
*This is a sponsored post. All opinions are that of my own, but this post does include some sponsored links.*
DIY Suncatchers
These are so lovely and can brighten up any window in your home. Want to make the most of the beautiful sun rays shining in? You may definitely want to check out this summer inspired crafting project.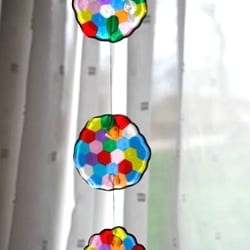 With this project you only need a small handful of supplies! A muffin tin/baking tray, pony beads, and an oven!
Keep in mind that beads are usually quite smelly when they are baking in the oven. It is wise to do this project with an open window or proper venting.
Bird Feed Ball Craft
One of the many joys of summer is being able to gaze outdoors at our beautiful feathered friends and other pollinators.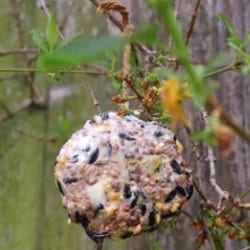 This summer craft is both creative and helpful to give our winged buddies some much needed nutrients. You can help them beat the heat and prepare for the colder months ahead with this awesome idea.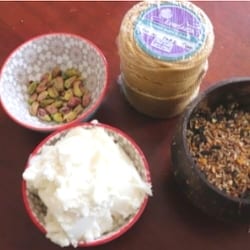 Our friend's at Life With Jupiter & Dann are the masterminds behind this simple summer craft that is sure to bring birds to your garden all summer long.
Lard is used as the primary base for the bird feed ball and it is mixed with seeds, dried fruits, or nuts. This craft is fun and hands on which is great for little ones as well. You can see the full tutorial here.
Summer Themed Tumbler
I made this craft myself using my Cricut machine. If you don't have one you should totally invest because they are so much fun!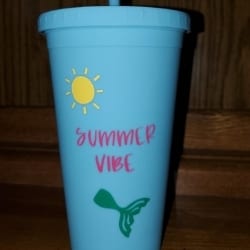 All I had to do was download the Cricut design space app on my laptop. From there I was able to select from tons of images.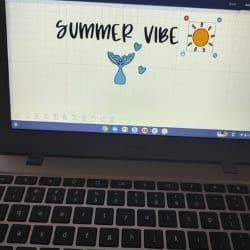 First, I selected summer fonts that looked perfect. Then, I chose a couple of other images I thought were cute.
From there all I had to do is select the vinyl colors I wanted and my Cricut machine did all of the awesome cutting work.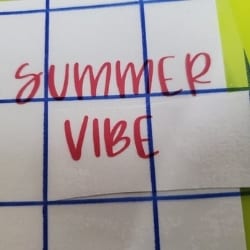 Finally, I weeded out my decals and applied them to my tumbler using some transfer tape. I think it turned out lovely!
Trendy Bendy Candles
I will be honest, I had no idea this was even a trend before Lynn Mumbing Mejia shared it with me. Oh my goodness I am in love with this simple and elegant craft! I feel like it is perfect for summer.
Imagine a full day of self care. You get your hair done, a manicure, and a massage. You come home to a epsom salt bath surrounded by these elegant whimsical candles to set the mood.
Talk about the perfect summer spa day!
I love the white candles because you could decorate pretty much any room with them. I am imagining some awesome rainbow colors as well for fun.
Overall, this is an extremely easy craft. All you need to get started is a set of long tapered candles and a container full of hot water to put them in. Lynn explains exactly how to make them in this full tutorial!
Floral Wreath
Nothing screams summer quite like beautiful flowers! This simple and beautiful floral wreath by Plaid and Sugar is sure to impress.
This summer inspired crafting project is easy to do and budget friendly as well. Most of the components for this craft can be found at the Dollar Store or Dollar Tree.
Basically you will need a 10 inch metal ring, faux flowers, and a hot glue gun to create a gorgeous wreath like this one.
You can find the full tutorial here!
Herbal Vinegar
Did you start an herb garden this summer? If so, Kathy over at Baby Boomer Super Saver has the the perfect craft/recipe tutorial for you!
If you're wanting to find something to do with your excess herbs you can learn to make your very own herbal vinegar.
Not only will this help you use your extra herbs, but it can add some beautiful flavors to your food!
Herbal vinegar is also great if you're trying to maintain a healthy blood pressure and diet.
Check out the full post and helpful tutorial here!
Seashell Wall Hang
Looking for something easy and sophisticated to adorn your home or office? You may like to try out this summer inspired crafting project by Sophie at This Brilliant Day.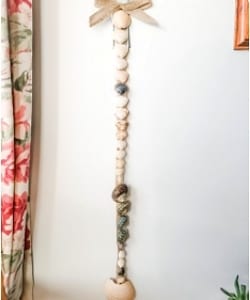 All you need for this craft is a cord/ribbon, some shells, and a hot glue gun. Simply glue the shells to the cord, glue on the ribbon, and leave a loop for hanging.
It really doesn't get easier than this craft. Plus it looks like something you'd buy straight from the shop! Well done Sophie!
Did this summer craft post help you feel inspired to create?
Feel free to let me know which craft is your favorite down in the comments. If you have any summer craft ideas feel free to share those as well!
If you enjoyed this post, you may like a few of my other crafty posts!
Resin – Every single thing you should know
Learn how to color resin with lots of things