Today I'll cover all kinds of wonderful Mothers Day preschool crafts that will make Mom's special day truly special! These crafts are perfect for home or even in the classroom! So, if you're looking for the perfect Mother's Day preschool craft, feel free to keep reading. (I recommend bookmarking the page so you always have it for reference!)
This blog post contains affiliate links. I may receive a commission amount if you click and purchase something through them. This will be at at no extra cost to you!
#1. Handprint Pot Holder
Using fabric paint, allow the preschool child to place their handprint onto a plain pot holder. Allow the pot holder to dry, and you'll have a memorable and functional gift for Mom on Mother's Day!
#2. Paper Plate Flower
This craft allows the preschool child to paint and/or decorate the paper plate however they want. Help them to cut the paper plate into a flower shape.
Attach a simple green pipe cleaner to the paper plate to act as the stem. Then, add a green construction paper leaf that can have a heartfelt message on it!
#3. Salt Dough Hand Ornaments
Salt dough ornaments are a long beloved craft for any holiday or special occasion. Gently push the child's hand into the dough, bake the dough, and paint and personalize it.
Need help with how to make salt dough? I've got you covered!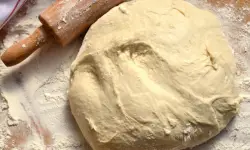 You will only need 3 ingredients.
All purpose flour (2 cups)
 Salt (1/2 cup)
 Water (3/4 cup roughly add more if needed)
Instructions
Combine flour and salt making sure to stir well until thoroughly mixed.
 Add water gradually while stirring. Continue adding until the dough begins to form a ball. (Make sure the dough isn't too sticky.)
 Knead the dough until it becomes smooth.
 Preheat your oven to 200 degrees Fahrenheit.
 Roll out the dough to the desired thickness.
 Use a cookie cutter to achieve the desired shape.
 If your ornament will be hung, add a hole in the top of your dough.
 Bake on parchment paper for 2-4 hours until hard and dry.
 Allow to cool and decorate!
#4. DIY Photo Frame
This is one of my absolute favorite Mothers Day preschool crafts of all! You can purchase simple wooden frames found in most craft sections or make frames out of cardboard, which would be the most cost-efficient way to go.
Once the frame is ready, you can allow the preschooler to decorate the frame with buttons, sequins, dry pasta, paint, or anything you'd like! If you have easy access to print photos of the child you can add a picture or simply send it home for mom as is.
I have received personalized photo frames from my preschooler and I absolutely love and cherish them so so much!
#5. Painted Rocks
Rock painting is always a hit with preschool-age children, who will absolutely love doing this. Simply allow the preschooler to paint and decorate the rock however they wish.
The painted rock can be used as a nice paperweight or garden decoration that mom can enjoy for a long time to come!
Click here to get rocks for painting from Amazon right now!
#6. Mommy and Me Story
Another nice idea for a Mothers Day preschool craft is a short story book that tells the tale of the child's relationship with their mom!
Allow the child to use drawings or short sentences to describe their feelings. You can easily print pages with a prefilled story that the child can add their own touch to.
No matter how this gift is made, even if it has a lot of help involved, it will still have so much meaning!
#7. Handprint Butterfly
For this craft allow the child to create painted hand prints on a piece of paper with their fingers apart and thumbs together. This will give the appearance of a butterfly with wings. You could also have them make handprints with their left and right hand separately and glue them together to form the butterfly if you like.
You can then paint or draw the body to look more like a butterfly and add a personalized message to mom!
#8. Decorated Heart
This craft is extremely simple and straightforward. If you're looking for something easy and achievable for any and all skill level then a decorated heart is the way to go.
Simply draw or print a large heart on a piece of paper. Allow the preschool child to decorate the heart as much as they like with crayons, paint, markers, buttons, or anything that you have available in home or the classroom.
Then add somewhere on the page the child's name and I love you mom! The child will have a lot of fun and I'm sure their mother's will appreciate the sentiment!
#9. Pasta Necklace/Bracelets
Pasta art is a great idea for a Mothers Day preschool craft as well as a form of tactile learning.
You can help the child string different colors and shapes of pasta onto a piece of yarn and then help them tie it for a sweet gift to mom.
This craft is really engaging for most children and it helps them explore their creativity!
#10. Sponge Painting
For this craft you can cut sponges into various shapes and allow the child to dip them in paint.
Then they can press them onto paper or canvas to create many different patterns and textures.
Allow them to sign their name and add a message to Mom! (These can always be premade).
#11. Cupcake Liner Flower Bouquet
Wanting something more creative when it comes to Mothers Day preschool crafts? With this craft you will take cupcake liners and glue them onto green pipe cleaners. Hot glue will likely work the best.
Glue a button in the center of the cupcake liner to turn it into a flower. Have each child make several to create a lovely bouquet to give to Mom! You can glue them to the back of a construction paper vase if you'd like or bind them together to offer as is.
#12. Clay Jewelry Dish
For this craft you'll be making something very functional that a mom can use for a long time. Help the child mold air dry clay into a small bowl shape.
Once the clay is dry, allow the child to paint or embellish the dish to give it a personalized touch!
#13. Cardstock Bookmarks
To make a cardstock bookmark, you can help the child cut out a rectangular strip and decorate it. If it is easier to decorate the cardstock before cutting it out then you can do that as well.
Then go ahead and put a hole punch in the top of the bookmark. You can add a premade tassel or one that is made out of yarn. This makes for a great gift for moms who love to read!
#14. Cardboard Tube Bird Feeder
This is such a fun craft to do for preschoolers and pretty much anyone! All you have to do is use a carboard tube such as a toilet paper roll or a paper towel roll. First poke a hole on each side of one end of the tube. Put a piece of yarn or string through the holes and tie it so that the bird feeder can be hung later.
Next, cover the bird feeder in peanut butter and roll or sprinkle bird seed onto it. Thicker peanut butter tends to work best. This craft can get messy but it is fun and easy with adult supervision.
Place the bird feeder carefully in a plastic ziplock baggy to take home for Mom to hang up outside!
Was this list of Mothers Day preschool crafts helpful?
I hope that you found this post helpful and were able to come up with some great ideas for the home or classroom! I aim to help provide craft ideas for all age groups and skill levels. Please leave feedback for something you'd like to see on my website or let me know if you enjoyed this post!
Important Side Note: Please remember to offer assistance to children of preschool age. Not every craft is suitable for every child's skill level and they may require more or less help depending on the craft. Also, keep safety in mind when working with small children.
As always, happy crafting!