Memorial Day is a significant holiday for many and is viewed as a time to honor those that have lost their lives in the military. Allowing toddlers to participate in this important holiday by crafting is a way of helping them to understand the holiday and have some fun while they are at it.
In this post I'll be giving a list of a few Memorial Day crafts for toddlers that you can try at home or in the classroom to celebrate the holiday!
This post contains affiliate links. This means if you click and purchase anything through them I may receive a commission. This is at no extra cost to you.
#1. Firework Salt Painting
This craft is simple and suitable for most toddlers. All you have to do is draw fireworks with glue, sprinkle with salt, then add water color. Some prefer to use food coloring, but any medium that can be absorbed by the salt should work fine.
To draw the fireworks I prefer to make something like an asterisk or simple streaks as if you are mimicking a spraying water fountain.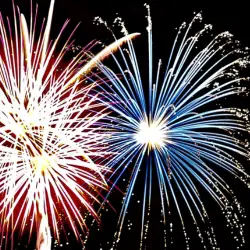 #2. Red, white, and blue handprint
Start with a plain sheet of white paper and some child-friendly, non-toxic finger paints in red, white, and blue.
Assist your toddler in covering their hand with paint, using a sponge or brush for safety and control. Press their painted hand onto the paper, creating a unique handprint craft in patriotic colors.
#3. Poppy Crafts
For this you can use your creativity there are so many ways to make poppies. You can use simple paper plates and paint or you can use red tissue paper and green pipe cleaner as well.
Poppies are a symbol of life and remembrance for war veterans so it is always nice to incorporate them for this holiday.
#4. Patriotic Pasta Picture
Use red white and blue pasta to glue onto paper to make a nice picture. You can dye pasta using food coloring, vinegar, and a ziplock baggie.
Seal the bag and shake and massage the color onto the pasta. Allow the dyed pasta to dry on parchment paper before making pictures. This will avoid messes. You can dye the pasta the day before.
#5. Patriotic Clothespin Wreath
Color clothes pins with red, white, and blue non-toxic paint. After the clothes pins are dry they can be arranged around a cutout circle to make a patriotic wreath.
You can cut out the center of a paper plate for this craft or use construction paper.
#6. Red, White, and Blue Bottle Shaker
I think this is one of the most fun Memorial Day crafts for toddlers because it makes both a fun craft and sensory toy.
All you need to do is gather red, white, and blue small objects that will fit into a bottle. These can be small toys, beads, gems, or glitters. You can keep it as a simple shaker or add water so the objects can float around.
*Adult supervision* This craft requires adult supervision for the gluing of the cap. I recommend a superglue that will keep the lid shut tightly with no chance of opening.
#7. Patriotic Wind Streamer
For this memorial day craft for toddlers you will just need a few simple items. A carboard tube, tissue paper, and yarn.
Simply paint the carboard tube red, white, and blue. Add tissue paper streamers by gluing them to one of the ends of the tube. You can hot glue or run a piece of yarn through the bottom so the child has something to hold onto when using the streamer.
#8. Memorial Day Glitter Art
This craft my require a little bit of adult supervision but it is so much fun. Glitter crafts are usually a great hit with most children so the fun will outweigh the mess.
Simply help the child draw a picture such as fireworks or a poppy flower with glue. Then allow the child to sprinkle glitter onto the glue to create a beautiful work of art.
#9. Patriotic Necklace
Provide the child with large beads in red, white, and blue and encourage them to thread them onto a piece of yarn or string, creating their own necklace.
Once they have finished adding beads, tie off the ends of the yarn or string for them. It's advisable to use a longer piece of yarn or string to ensure the child has plenty of room beading. It also will keep the necklace from being uncomfortable to wear.
#10. Button Collage
Use red, white, and blue buttons and glue them to paper to make a patriotic collage. This craft is extremely simple and the child can practice their gluing.
This craft helps with fine motor skills as well as hand eye coordination.
Use Child Friendly Materials
While all crafts are open to interpretation I highly recommend using toddler safe materials for your crafts. Not every art medium is suitable for toddlers.
Safety should be the main priority when allowing toddlers to explore creativity through crafts. Use non-toxic materials but also be available to supervise the child. Supervision is the best way to ensure the safety of toddlers when they work with small parts or objects.
Why are Memorial Day crafts for toddlers important?
Memorial Day is a significant holiday to many. Creating crafts teaches children the importance of honoring those who have served our nation. These crafts are meant to be interactive, fun, and educational as well.
Through crafts a toddler can still participate in observance of this meaningful holiday in an age-appropriate way.
You will be creating lasting memories!
Through these simple yet meaningful craft activities we can help toddlers understand that there is a significance in this holiday.
Not only can this help them understand but express their creativity and develop skills as they do it.
These crafts and moments of learning can instill a sense of respect and remembrance of the brave men and women who served our country.
Creating a fun and educational environment through crafting will undoubtedly create lasting memories.
Did you like this post?
I hope that you found some inspiration for Memorial Day crafts for toddlers in this post. This post is designed to give you ideas and suggestions for toddler crafts but everything is open to your own interpretation.
You can always change and swap out art mediums and incorporate other ideas that you have! Feel free to think outside the box and let your toddler take the lead from time to time.
Happy crafting!