Rock painting is so much fun to do, and it is accessible to almost anyone. It is even a fun activity for kids! You can paint your rocks in numerous ways, but in this post, I'll show you some of my favorite cute painted rock ideas I think you should try!
The cute painted rocks in this post are from various artists, including ones from Pinterest. All known artists are credited for their work.
* As an Amazon Associate, this post contains affiliate links. This means I may earn an amount if you should click and purchase a product through them. This is never at any extra cost to you.
Cute Painted Rock Bugs
These are a top choice for my cute painted rock ideas list because they are perfect for any garden or landscape decor. Bug rock painting is simple, and kids will likely enjoy this one as well.
Here is an excellent ladybug rock painting tutorial from Crafts by Amanda to help you achieve this cute buggy look!
Kindness Rocks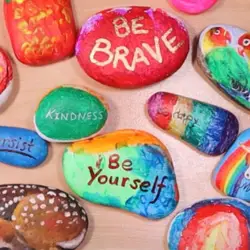 These are on my list for so many reasons. One because they are fun to make and paint. Two, because they inspire and make people feel good when they find them.
Many people leave these hidden in parks and planters around their communities as a gesture of positivity. You never know who will find these rocks. The great thing is that when they are found, they bring joy to others, and that's worth everything.
All you need to do to make these is purchase clean, blank rocks (or find and wash your own.)
Paint a base coat onto your rock and paint on your message once the base coat has dried.
Rock painting is entirely up to your interpretation, so there are numerous ways to paint your rocks.
Mandala Rocks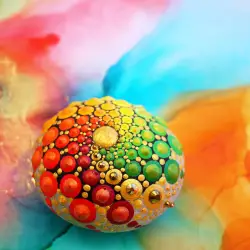 These are a constant favorite design for rock painting that many people tend to gravitate towards. These make for a cute painted rock idea but also beautiful decorations.
I have included many tips and tools for making mandala rocks in my blog post "How To Make Unbelievably Exquisite Painted Rocks."
Mandala-dotted rocks are so fun and whimsical that some people like to sell them on Etsy and in other craft shops for extra money.
Owl painted rocks
I love this owl-painted rock by One Little Project. This is definitely a cute painted rock idea and belongs on the list! Check out the pin to follow One Little Project and check out their tutorial.
Beautiful scenery rocks
Some of these cute rock painting ideas are more than just that. They are beautiful works of art! This is one of my favorites that I've come across.
If you love to add detail and put work into your rock painting, this beautiful, inspiring rock design by Művészfabrikáló is perfect to try.
Rock Painting Supplies
If you've gained any inspiration from the cute rock painting ideas I've shown you, you may wonder what supplies you need to achieve these looks.
Simple tools – Regular small paint brushes, sponges, or paint markers can be used.
If you want to explore more advanced rock painting tools, there are many great sets out there to try, such as the one I've linked below.
Paints
If you use your rocks for outdoor gardens, it is best to use durable paint against the weather elements.
Outdoor acrylic paint is typically the go-to option for rock painting.
Have Fun Rock Painting!
I hope this post helps you start on your way to some excellent rock painting! Feel free to let me know how your rock painting experience is, and follow me on Pinterest to keep up with more of my craft-related posts.
If you missed it, check out my blog post below for more rock painting help!
Happy crafting!