What do you think of when you think of a guardian angel? Someone who watches out for you and provides a sense of protection? Arlo security cameras, like guardian angels, can give a feeling of safety.
*This post contains affiliate links which means I may be compensated if you should click and purchase something through them. This is at no extra cost to you.*
Constantly On The Watch
Like a guardian angel, Arlo security cameras always watch over you by providing constant surveillance day and night. Whether it is indoors or outdoors, Arlo will ensure that every corner of your home is totally covered.
Stay Alerted With Arlo
A guardian angel may alert you of imminent danger. Arlo cameras can do this too! Arlo cameras feature motion sensors and sound detectors that will immediately alert you of any unusual activities, ensuring you're aware of detectable threats in real-time.
Intervention
While Arlo security cameras cannot physically intervene to protect you, they can send instant notifications which can help prevent dangerous situations in real-time. If an intruder is detected, the alarm feature can potentially scare them off and allow you time to alert authorities quickly.
Protection
Rely on Arlo to protect your home or business by helping you keep a watchful eye. Arlo can connect right to your mobile phone so you can discreetly see what is going on in any part of your home or business at any time of the day. Place Arlo security cameras outside to keep track of traffic that passes your home or business as well. This can help protect you from unknown persons and/or suspicious vehicles.
Preventative Security System
Guardian angels are known to deter negative actions. By making your outdoor Arlo security camera visible, you can help prevent potential intruders. In turn, this can prevent incidents before they ever have a chance to occur.
Invisible Protection Is Possible Too
For peace of mind, you can subtly place your Arlo security cameras. While not 100% invisible, you can blend Arlo security cameras easily into your home or office decor to be unseen but always watching, just like the concept of a guardian angel.
Reduce Fear and Anxiety
Your family relies on you to protect them, but this comes along with many fears and anxieties about what could happen. With Arlo, you can have a sense of security which can reduce your fear. Sleep peacefully at night, knowing Arlo is watching at every hour and ready to alert you at a moment's notice. All you have to do is configure your Arlo app on your smartphone or device.
With the Arlo app, you can connect to any of your Arlo cameras, monitor them remotely, receive notifications, and so much more.
Arlo Memorial Day Sale
Take this sale as a perfect opportunity to secure your home or office. Arlo has some spectacular deals for Memorial Day, which offer incredible savings on their award-winning products.
Offers are available until 5/29/2023.
Cloud Storage Features
Not only do you have real-time monitoring capabilities with Arlo, but you can also access cloud storage features that will keep essential video clips from your Arlo security cameras. You can save opt to save the video for later review and not have to worry about it being overwritten or disappearing.
Save More With Secure Plan Bundles
You can't put a price on your family's safety and peace of mind. Although with Arlo you have a chance to save big on security bundles that can cover the entire home. Don't wait to achieve the sense of security you've always wanted. Take advantage of Arlo's offers, which can help you save up to 60% when you bundle a security plan with select products.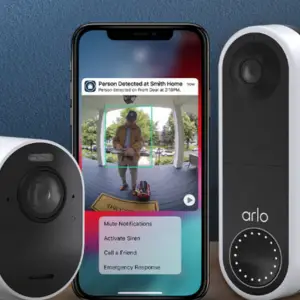 I Trust Arlo For My Family
I understand it's challenging to select a security system for your family, with many options available today. It's okay if you want to browse around, but from my personal experience with Arlo, I've had nothing but a positive journey. We received our first Arlo security camera as a gift for Christmas a few years ago, and once we tried it, we loved it. We started with just one camera and quickly added more for both indoor and outdoor use.
I totally get that no one likes to be sold something, but in this case, I can't stress enough how much Arlo has helped my family feel secure. From Instacart deliveries to mail drop-offs, we are always in the know about who is at the door. Arlo quickly alerts our cell phone to any movement.
If you need a security system, why not give Arlo a try?
Did you like this post? You may like a few of my others!
Separation Anxiety In Children – When Should I Be Concerned?