This is a dynamic duo that is truly a match made in heaven! So you probably know that resin can be used to make a ton of mind-blowing crafts. Imagine combining the incredible properties of resin with the brilliant cutting works of a Cricut! The results are fantastic and these projects typically sell much better than their stand-alone counterparts. Allow me to show you how to use resin with your Cricut projects!
Create Your Resin Art
The first step is to make your resin art piece that you want to use your Cricut designs with. You can make coasters, keychains, trays, or anything you want.
If you are brand new to using resin I recommend reading this post before you get started. (Don't worry it will open in a new tab so you don't lose your place here.)
Once your piece is made you can then begin the process of designing your Cricut cutout. I would recommend using vinyl. I have heard some complaints that vinyl doesn't like to stick to resin, but that won't be a problem with this method as the vinyl will be sealed.
As an Amazon Associate this post contains affiliate links. I may be compensated a small amount if you should click and purchase something through them. This is at no extra cost to you whatsoever.
---
Cut A Design With Your Cricut
If you have a Cricut ready go ahead and access your Cricut Design Space to pull up tons of free images as well as font choices. Choose the design you would like to feature in your resin piece and cut it. Here is a quick little vinyl cutting tutorial video as a refresher.
If you do not have a Cricut you can get your hands on one in many craft stores, Amazon, or directly from Cricut.
---
---
Let's Start With Tumblers
This is one of the most popular resin/vinyl combinations that people are into right now. You may be wondering how it is done. First you are going to apply your vinyl decal to a clean and dry tumbler. I recommend wiping it down with an alcohol wipe to remove any impurities. Once your vinyl is stuck down where you want it you will need something to hold your tumbler in a horizontal position to apply the resin.
I recommend highly that you get a rotating tumbler turner as this is the easiest way to do these types of projects. The reason you need a rotating cup turning is because the resin is going to want to drip off of your tumbler and pool onto one side while it is wet. The rotation of a cup turner will keep the tumbler moving while the resin is able to evenly apply and dry as well.
Here is an amazing tutorial on how to make glitter vinyl tumblers using a tumbler turner and epoxy resin.
---
Applying Vinyl To Different Resin Crafts
Simply apply your vinyl cut out to your resin piece. Make sure you stick it down as well as you can. Once your vinyl is in position you can prepare to add a top coat of resin. This will seal your vinyl in place and allow you to have an embedded image inside your project.
Now you may be asking a lot of questions right now. Such as, what if my project is really small. Or what if it is oddly shaped.
Here are my recommendations for each situation.
A Tray or Deep Dish Type Project – If you are decorating a deep tray or plate with vinyl. You can simply apply the vinyl directly to the the blank tray or dish and coat it with epoxy resin. You should not have to worry about the resin dripping down the sides or anything like that because of the natural dip.
Here is a great video example of this type of project.
A Small Keychain/Necklace Charm (Any Shape) – In this situation I would simply leave my charm in the mold. Only fill your keychain mold a small portion of the way with resin enough to get a flat surface. Once your resin is totally dry you can apply your vinyl and then simply add another coat of resin. This has worked perfectly for me in the past as the keychain molds are small enough to stay well suctioned into the mold. This prevents any drippage down the sides.
Here are some keychains I made with my Cricut using the "leave it in the mold" method.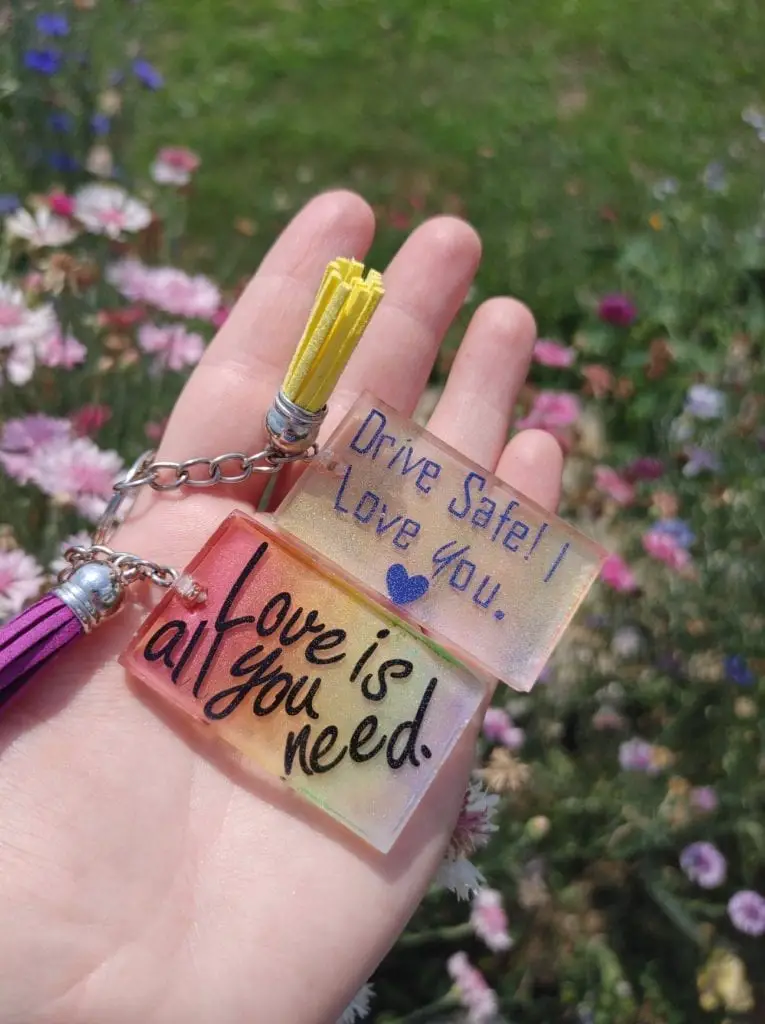 Round or Square Coaster Projects – Apply your vinyl decal image. I would then suggest taping around the project with crafters tape and propping it up on a dixie cup making sure your project is lifted slightly from the surface of your work area. When you are sure that you've taped well around the project tightly you can pour a top coat of resin to seal your vinyl. Taping is optional, but I find it helps
Here is a great tutorial for top coating over vinyl.
Want to earn money selling your resin Cricut crafts online?
There is absolutely no better time than right now to create your own website or money making craft blog. There are so many people online right now and shopping with small businesses.
Why not profit from crafts you already love to make?
Click here to learn how you can promote your crafts to sell online!
Get Creative!
With both resin and Cricut projects you can get endlessly creative. I would love to see what you come up with! A while back I made a mica coated resin heart with a vinyl mermaid decal. I then put the resin heart and decal into a diamond round mold and casted it inside for a beautiful coaster design. I love the way it turned out!
Feel free to email any creations you've made to [email protected] as I hope to feature my readers crafts on the website someday soon!
If you enjoyed this post then you may like some of my others!
5 Best tools for working with resin like a professional
7 Great reasons why you need a cutting machine
9 Superior tips for resin art beginners