Making necklaces is one of my favorite things to do! In this DIY tutorial I will be showing you how to make a resin kids necklace in just a few simple steps. These are so much fun and you can get super creative with them. In my experience children really love receiving jewelry as a gift and allows them to take responsibility for something delicate. Not to mention they will feel oh so fancy wearing it. Now let's get craftin'!
*As an Amazon Associate this post contains affiliate links. I may be compensated a small amount if you click on and purchase something through them. This is at absolutely no extra cost to you.
Pick Out Your Silicone Mold
The first thing you are going to want to do is pick out a silicone mold. These come in many shapes, sizes, and designs. For this demonstration I used a basic oval mold.
Dust The Mold Lightly With Shimmering Mica
A little bit goes a long way with mica powder. I simply dip the end of a paintbrush lightly into any color of mica powder and gently and evenly apply it to the inside of the mold. Take care to thin out any chunky spots with your brush. Try to dust as lightly as possible, but coat the mold completely.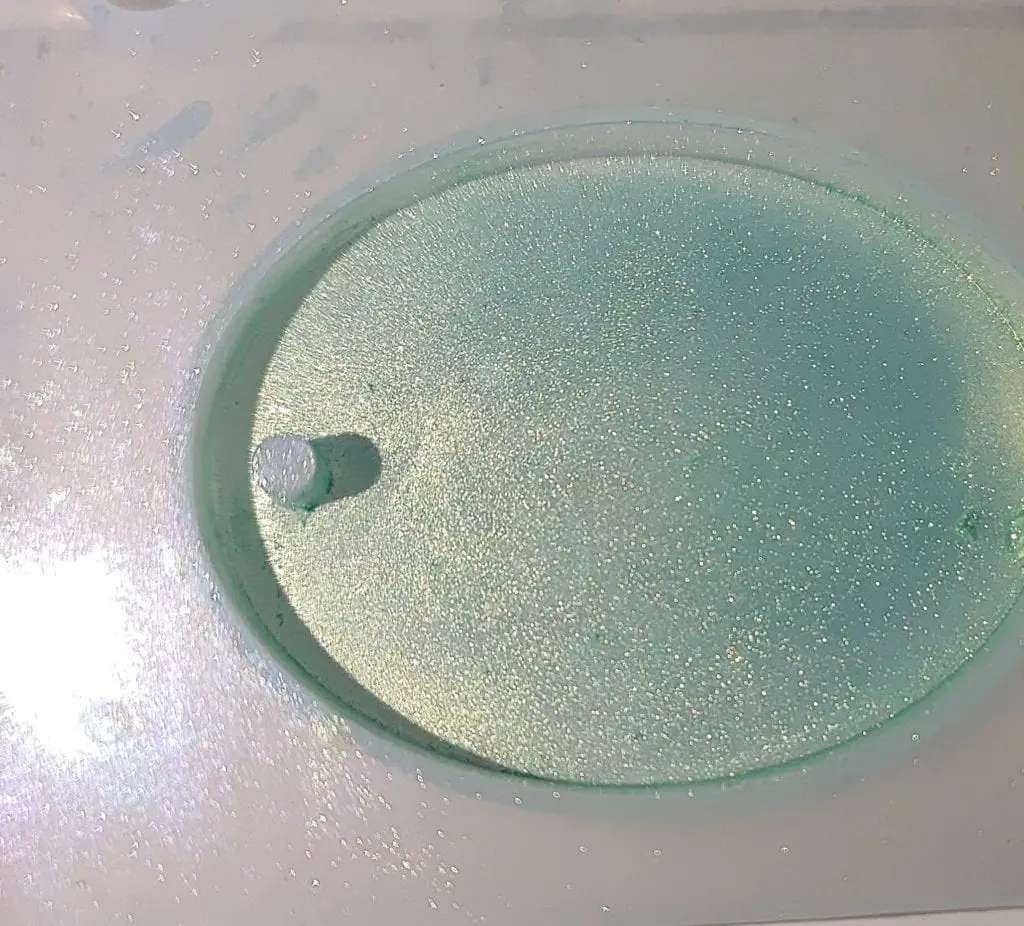 Mix Your Resin
Take your resin and get it mixed up. When I work with resin I wear gloves because it is so sticky if it gets on your hands. Mix 1 part resin to 1 part hardener evenly.
For example: if you mix 20 ml of resin you will want 20 ml of hardener.
Stir with a popsicle stick for a good long while. Be sure to scrape the sides of your container. You will want your resin completely mixed. Even one little bit of unmixed resin will leave a sticky uncured spot in your necklace.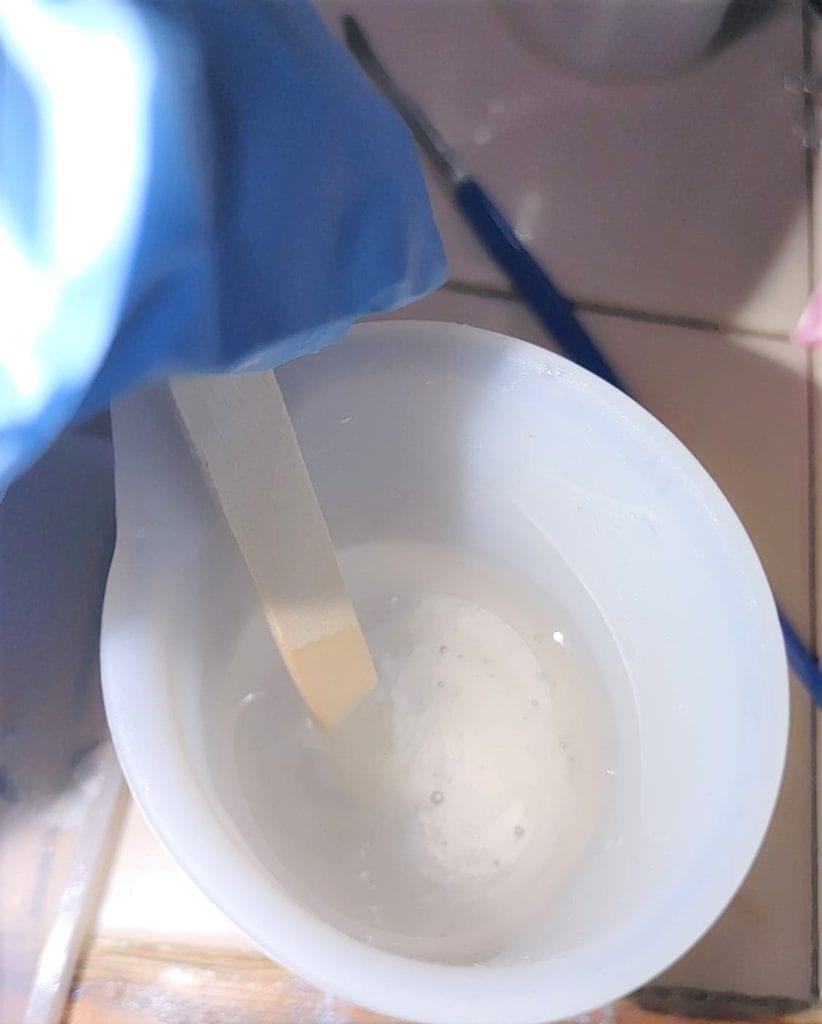 Stir & Stir Some More
Seriously, the worst thing you can do with resin is under mix it. Be sure to stir it completely. If you look at the resin and it looks swirly it may not be mixed all the way. Be thorough just to be safe!
Use A Clay Polymer Charm For The Inside Of The Resin Kids Necklace
Clay polymer charms are easy to find, they come in extremely cute designs, and they are often cheap. You can find them in nearly any shape and size you can think of. For This resin kids necklace I used a blue bunny charm.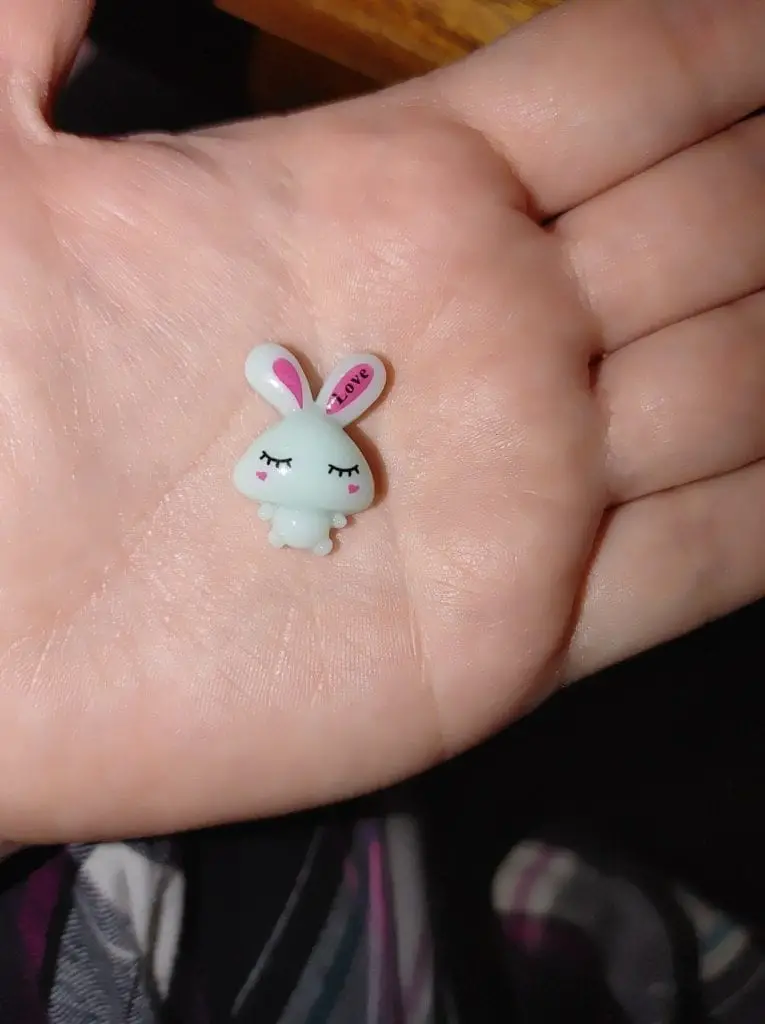 Pour A Small Amount Of Resin In Your Mold
Pour a thin layer of resin in the bottom of your mold. If you have to, tilt your mold slightly to get it to coat evenly. This is so little to no air can get trapped under your charm. When air gets under the charm it can harden and appear as a hole in the back of your resin kids necklace. You can use a heat gun on the thin layer quickly to try to remove any tiny bubbles the resin may have.
Put Your Charm In The Mold
Gently place the charm in your mold. You can use tweezers or simply put it in the mold with your fingers. Just be careful not to drop it in the wrong place. It can be hard to adjust the charm once it is in the resin without making a mess.
Cover The Charm With Another Layer Of Resin
Coat the charm with the remainder of your resin. Take care not to overfill your mold. Fill it evenly with the sides of the mold. Make sure the charm is completely submerged. If your charm tries to float up, simply push it back down with a popsicle stick.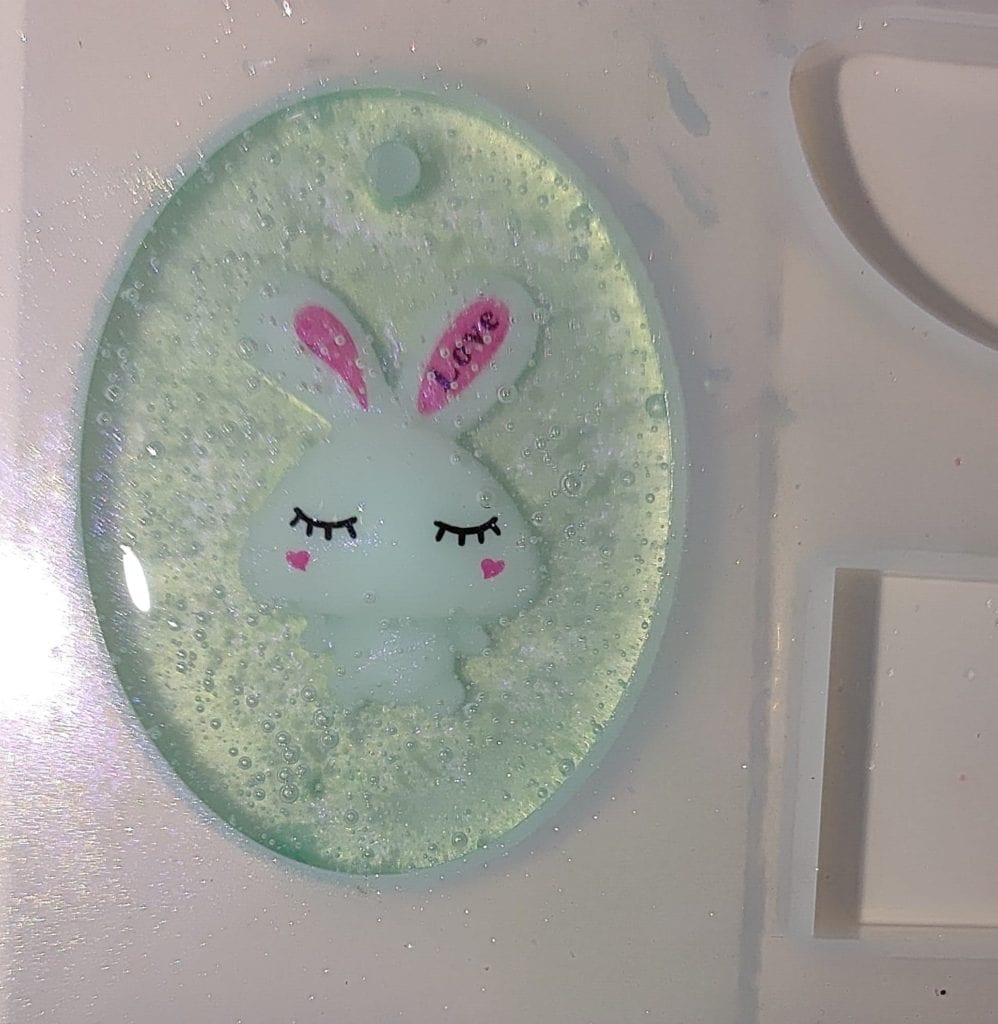 Charms do not typically repeatedly try to float up, but the pouring of the resin sometimes can lift or push it out of place. Again, use a heat gun or blow dryer to carefully heat your resin. This will help reduce bubbles in your resin kids necklace.
Let Your Resin Cure For 24-48 Hours
Allow your resin to cure in the mold for 24 to 48 hours in room temperature area. Make sure the resin is covered so dust and other things can not get into it. Once your resin has cured you can pull the resin kids necklace charm out of the mold.
Polish Your Resin Kids Necklace Charm
You can use a light sand paper or emery board to sand the edges of your necklace charm. Then using a 4 sided manicure nail buffer you can polish the charm and shine it nicely.
Put The Charm On A Chain
Pick out a chain of choice. I used a silver plated 20 inch snake chain. These are relatively inexpensive, but very pretty and shiny. Simply run a jump ring through your charm and clamp it shut with a pair of pliers. Run your necklace through the jump ring and voilla! You have a beautiful resin kids necklace to give as a gift!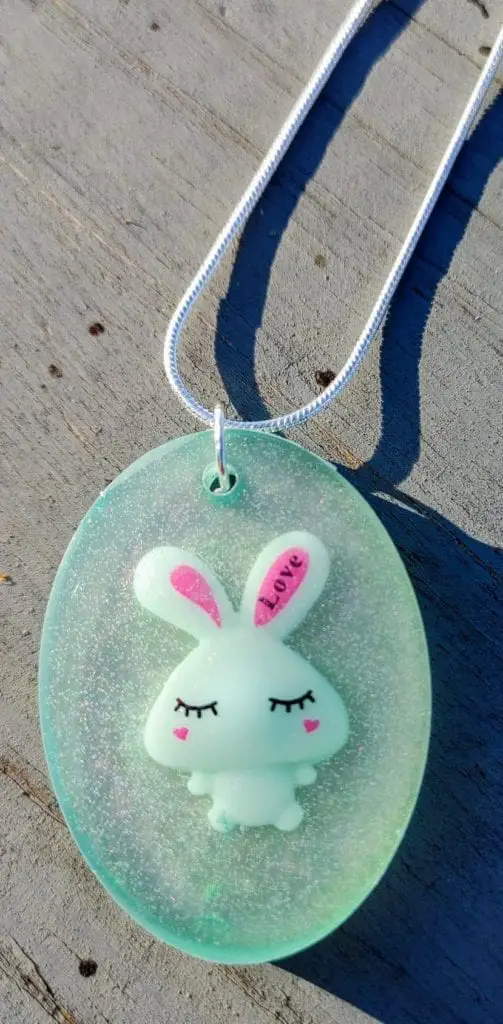 I hope you enjoyed this DIY resin kids necklace tutorial. If you are interested in more resin or DIY crafts, you can check out some of my other posts below! Stay safe, healthy, and crafty!
Here are some of my other crafty posts you may like!
Top 10 crafts to make and sell online
20 Resin craft ideas to make and sell