Crafts can be an amazing creative outlet. Today I am going to be showcasing the Top 10 Trending Craft Projects from the web that can earn you money. Not only is crafting fun, but you can make money selling them at craft shows or on site's like Etsy.
Check out these simple yet effective crafts to make and sell!
*As an associate of Amazon I may be compensated for purchases you perform on this website at no extra cost to you. This post contains affiliate links.
---
#1. Candles
Candle sales in the U.S. top off at nearly 2 billion dollars per year. This doesn't include candle holders or any candle accessories. Talk about the secret to an incredible income. If you can learn this simple trade you've got it made. That oddly rhymed…but anyway, you can seriously sell candles for a great profit.
People sell their candles anywhere from 5-200 dollars depending on the style and detail. Can you imagine making 200 dollars per candle?!
Candles will undoubtedly be one of those trending craft projects that will always be popular purely because of the demand. If you're looking to break into the Etsy scene or start selling candles online there is no better time than right now.

Get what you need to start making candles right now from Amazon!
#2. Painted Rocks/Rock Accessories
Seems a little simple, but this is a craft that is extremely popular these days. Rocks are a natural beauty and a product of the Earth and our environment. It is no wonder that in this day and age of recycling and going green that a craft like this is desirable.
People often purchase painted rocks for anywhere from 10-40 dollars. Some more detailed rocks can go for a much higher price. Many people buy painted rocks to accent their gardens or flower beds.
There is no slow in popularity for painted rocks so now would be a great time to get started! Also here is a great rock painting tutorial!
Get what you need to start this project right now from Amazon!
#3. Pressed Flower Resin Crafts
Pressed flower jewelry  is an elegant and beautiful alternative to traditional gem and diamond jewelry. These are one of the most desirable crafts to purchase. If you are looking for something that sells well and appeals to many then this may be something you could try out at your next craft or art show. 
You can press your own flowers straight from your flower bed or simply purchase packs of them to use in projects. I highly recommend the Microfleur which allows you to press flowers the same day.
Resin flower jewelry ranges in price from 10-50 dollars a piece and of course sometimes more. As your shop grows you can raise prices as needed.
Get what you need to start this project right now from Amazon!
#4. Knitted/Crochet Clothes & Accessories
Knitted clothes and accessories are really popular right now. Especially on Etsy! Things like knitted scarves, gloves, and blankets have made it into the top selling categories.
If you love to knit or are able to follow simple crochet patterns you may be able to capitalize on your abilities by selling your creations online!
Get what you need to start this project right now from Amazon!
#5. Clay Leaf Dishes
A perfect Fall craft and lovely home accent. Clay leaf dishes can be used for a variety of things around the house. Also, this simple DIY project is doable for even the most novice of crafters. 
 Again, this is a great natural and green trending craft project that anyone can try and is sure to make sales due to its charm.
This is just a great craft to do in the Fall for quick money. 5-20 dollars a piece would be an acceptable range for these.
---
#6. Mason Jar Luminaries
Mason jar projects have been popular for years, but they are a continued success even today! These jars are versatile, inexpensive, and are always a top trending craft project. 
 I highly recommend putting mason jar luminaries up for sale as they are certain to earn you a few bucks a piece.
Use vinyl cut outs to make your shadow image. Glitter or paint the outside as desired. Add some fairy lights and you've got something magical to sell for 15-60 dollars. Yes, these often go for decent prices if the market is right. 
Why not give it a shot? 
Get what you need to start this project right now from Amazon!
#7. Homemade Self Care Products
Who out there doesn't love the feeling of a good sugar scrub, lotion or great facial mask ? Now that people are tired of harsh chemicals and harmful ingredients these homemade products sell quite well.
The key to a great selling self care product is to have natural ingredients and a gorgeous presentation for the container.  People adore them and are sure to buy them up if you present them well. 
Since the pandemic many people have been focusing on their own person self care so the market for this type of craft product is much better than ever before. You can also check out my vanilla coconut sugar scrub tutorial here.
Get what you need to start this project right now from Amazon!
---
#8. Homemade Hair Accessories
Hair scrunchies and accessories are an ever popular and easy DIY craft. People love cute and innovative accessories which can be easy to make with a variety of materials. 
If you are on the fence about what to sell in your craft shop, scrunchies and hair pins are undoubtedly popular. Try making your own! I have a resin hair clip tutorial you can check out here.
Get what you need to start this project right now from Amazon!
#9. Mugs/Kitchenware
As long as there is work to do in the kitchen and coffee to be drank these things will be popular. Mugs are an easy DIY that are always sought after. You can easily whip up a custom mug using a Cricut and vinyl or even sharpies.
Kitchenware has long been a popular subcategory on Etsy that is known to sell well. Mugs and custom glassware is among the top sellers.
If you are interested in making custom vinyl cutouts you should really consider getting a Cricut if you don't already have one. Check out my review on the Cricut Explore Air 2 here.
Get what you need to start this project right now from Amazon!
#10. Poms and Keychains
Lately these simply DIY creations have been trending. Poms are adorable and versatile. They can be fashioned into keychains, animals, and tons of decorative accents. You can make your own pom creations to sell or keep them for yourself.
You also can fashion custom keychains using resin and molds of different kinds. Resin is such a popular craft right now. You can learn everything you need to know as a resin beginner by clicking here.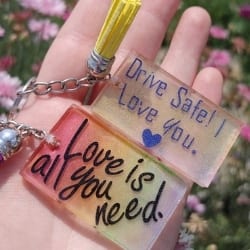 Get what you need to start this project right now from Amazon!
Friendly Disclaimer:
I hope you find the perfect craft to sell! Remember this list is intended as a guide to help you choose the best craft for you to make and sell. These are suggestions based on stats and current projections from Etsy and other research I've conducted.
With hard work and effort promoting your products you can earn top dollar from an Etsy shop! Selling crafts is not a get rich quick scheme so remember to put your best foot forward when it comes to opening an online craft shop.
Success is achievable
Success is definitely possible if you put in an honest effort. Many people are earning a living online these days.
The crafts I selected are from top categories that are known to be best sellers. This does not mean that if you make them you will instantly make sales. What it means is that you stand a much better chance to sell them than if you craft and promote other things.
I wish you the very best of luck on your craft selling endeavors! If you want more help when it comes to knowing what to make and sell online you can check out a few of my other posts below!
---
Check out even more posts about selling crafts online!
The Easiest Things To Sell On Etsy
How To Earn Money Online As A New Craft Blogger.
20 Resin Craft Ideas To Make And Sell On Etsy
Thank you for reading and I hope you have found some inspiration! Are you ready to create your own trending craft projects? Let me know how your endeavors go and feel free to leave a comment below.
Happy crafting!