Are you ready for my first craft of the year? I know I am! After brainstorming a little bit I realized that Valentine's Day is somewhere on the horizon. So for today's craft I'll be showing you how to make a coffee filter heart dangler with alcohol ink and little help from Cricut.
Don't worry if you are missing some items because I have a couple alternatives for you if so.
*As an Amazon associate this post contains affiliate links for which I may be compensated a small amount if you should click and purchase something through them. This is at no extra cost to you.
What You Will Need To Get Started
Coffee Filters
Construction Paper
Glue Stick
Hot Glue/Super Glue
Alcohol Ink (Alternative: Sharpie Markers)
Scissors
String/Yarn
You should use a Cricut machine for the cutouts, but if you don't have one you can free hand draw and cut out your hearts and message. Using a Cricut will yield nicer results.
Getting Started
Before we get started and you are fretting over this list of items you will need. It's actually a quite simple project that even your kids can help with.
Most of these items can be found in any craft section and of course on Amazon.
If you do not have a Cricut machine you can still do this project. Just keep in mind that you will get much better results with the Cricut machine.
The Steps
Step 1: Take a blank coffee filter and place it on a paper plate. The paper plate will keep the alcohol ink from getting all over your work surface.
If you'd like additional surface protection you can use newspaper with plastic wrap underneath.
Step 2: Select the colors of alcohol ink that you like. I stuck with pinks, reds, and purples because they blended well. You can get as creative as you want.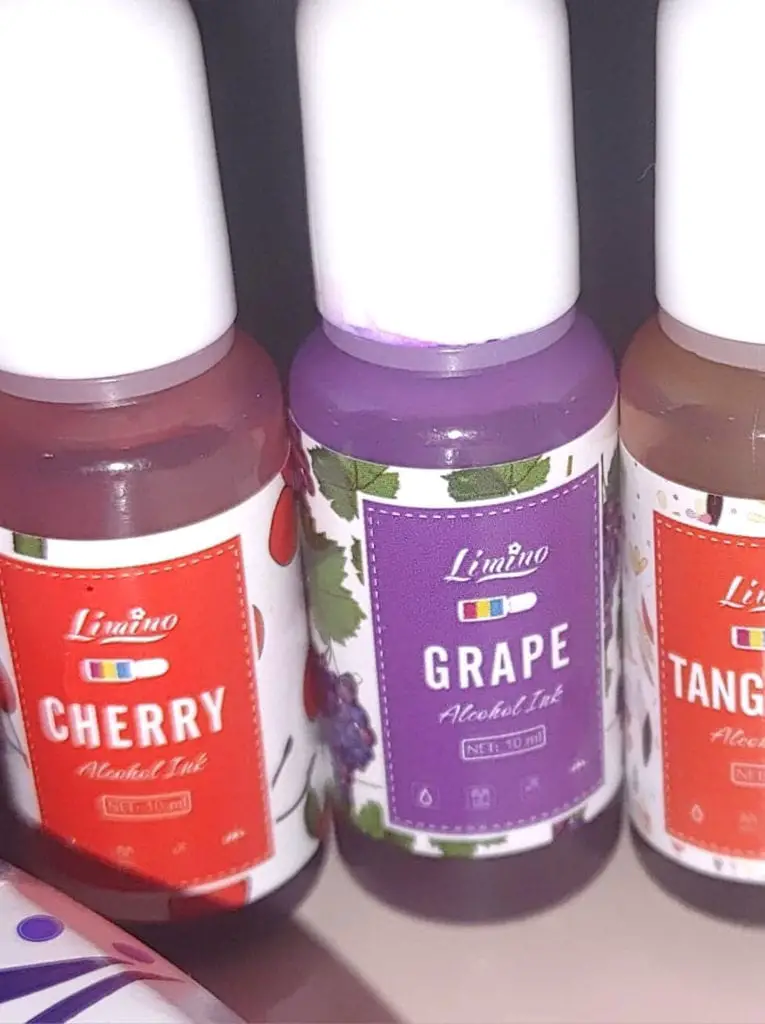 Drop dots of alcohol ink on your coffee filter. You will notice that it absorbs the color quickly and spreads out quite a bit from each drop.
Attempt to cover the entire coffee filter with color.
Step 3: Allow the coffee filter to dry before continuing further. You can use a blow dryer to speed up the process or simply leave the filter sit for a few minutes.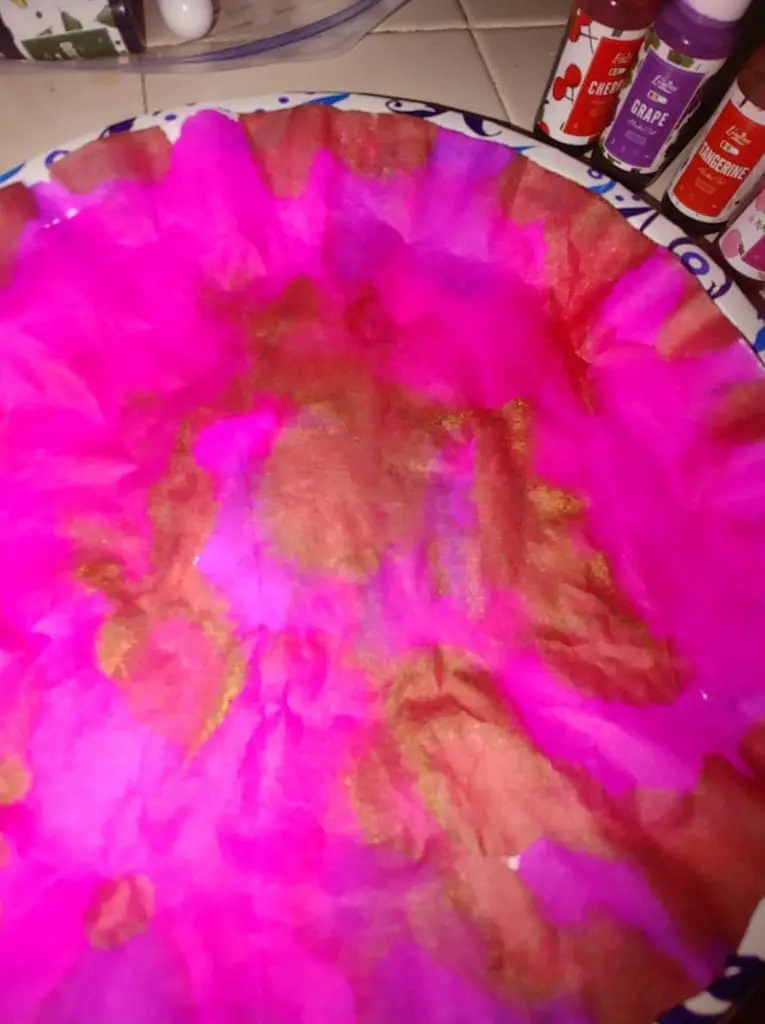 Fun Fact: Alcohol ink dries very quickly. That is because the alcohol in it evaporates rapidly only leaving the color behind.
Sharpie Alternative
You can achieve a similar look and effect by using sharpie markers to color the filters instead of doing the alcohol ink drops. This could actually allow you to make more intricate designs.
It is totally up to you!
Get alcohol ink right now on Amazon.
Additional Steps
Step 4: Now that your coffee filter is dry you can take a glue stick and go around the outer edge on the backside of the filter.
Also apply a liberal amount to the rest of the filter on the backside as well.
Step 5: Stick the coffee filter to the piece of construction paper. Leave a little room on one side of the paper to use later.
If you're using the Cricut, you can go ahead and place the construction paper with the glued on coffee filter onto a cutting mat. I used a basic lightgrip mat.
I recommend using the Cricut brayer to roll the paper tightly to the mat.
Cricut Design Space
Open up Cricut Design Space.
Go down to shapes and select "heart" from the menu.
Add the heart shape to your project. Make 3 hearts by clicking "duplicate". Size them in descending order.
Adjust the size of each heart to 2 1/2 inches, 1 1/2, and 1 inch respectively.
Note: Of course this is totally up to you. You can make your heart cutouts whatever size you want. You can cut them out freehanded if you like without the Cricut.
Cut Out Your Hearts
Set your Cricut to the "paper" material setting. As long as the coffee filter is dry and glued down flat to the construction paper it will cut nicely with the Cricut.
Begin loading your mat and press the Cricut button to cut once you are ready.
Gently remove the hearts from the mat.
Optionally you can cutout the word "Love" using the remaining portion of your coffee filter, or just create a new coffee filter so you can have a full surface to work with.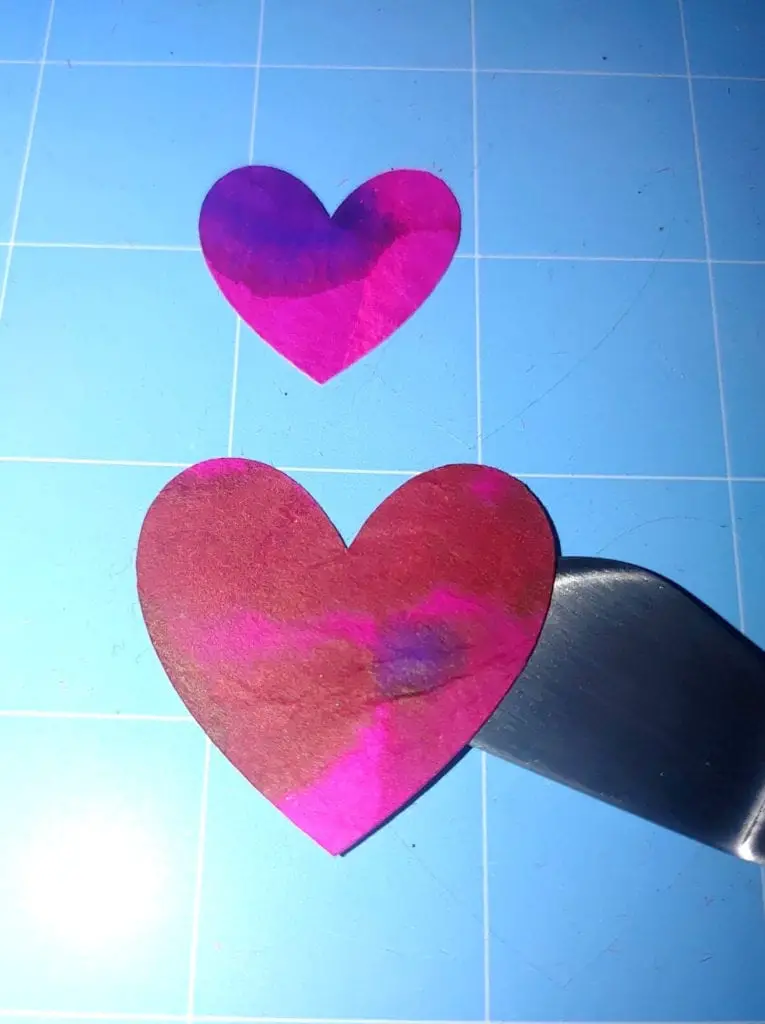 Glue The Hearts
Now, simply glue the hearts to a piece of yarn. I chose to use the biggest heart on top and smaller ones in descending order.
I used small dabs of hot glue to attach the hearts, but you can use super glue if you like.
I chose gluing because I didn't want to hole punch my hearts to tie them. The hot glue is barely visible on the back and holds well.
(Also I just like using the hot glue gun because it's fun.)
Final Touches
Finally, you can take a leftover rectangular piece of construction paper and glue on the words "Love" if you cut it out using the Cricut.
Or you can simply write in a loving message freehanded. Either way it will look nice.
Glue or hole punch the square and attach it to your yarn at the bottom for a sweet Valentine's Day message.
Use Your Coffee Filter Heart Hanger To Decorate
You can use these in classrooms, kids rooms, or even as a door knob hanger. They make such an adorable decor for Valentine's Day.
This makes a great beginner project for Cricut users as well as one that kids can do with a little adult assistance.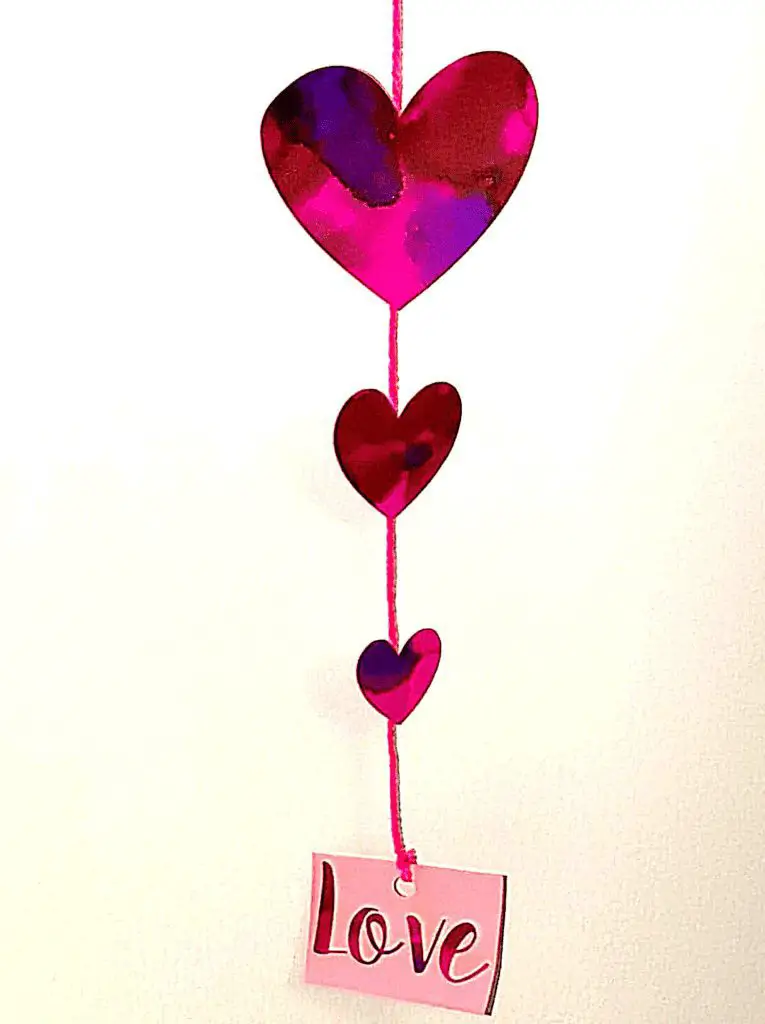 Be sure to sign up for my Monthly newsletter to stay in the loop. Feel free to email me at sinceremommy.c[email protected] with comments, suggestions, or crafts you've tried!
Also if you're considering getting a Cricut (which I highly recommend) you can grab one one right now on Amazon!
If you liked this post, you may like a few of my other ones.
The Best Cricut Tools To Get As A Beginner