Better than an iron and more sophisticated than a regular heat press. Today we are going to be talking about a Cricut heat press. It's the Cricut Easy Press and we are going to go over everything you need to know before you throw it in the cart and buy. Let's get started.
*As an Amazon Associate this post contains affiliate links for which I may be compensated a small amount if you should click and purchase something through them. This is at no extra cost to you.
What Is A Cricut Heat Press Actually For?
A heat press such as the ones made by Cricut are for applying heat transfer vinyl or designs to a surface permanently.
There are many surfaces you can apply heat transfer material to. Many people want to buy a heat press if they are interested in making things like t-shirts with decals or other similar items.
What Cricut Heat Presses Are Available?
Currently there are 3 sizes of Cricut heat press on the market and an additional size specifically for mugs. Depending on the size of your projects you may want to consider getting a bigger or smaller Cricut heat press.
Available Sizes
Large 12 inches x 10 inches
Regular 9 inches x 9 inches
Mini 3.62 inches x 6.3 inches
Mug Press
Each size of Cricut heat press has its benefits depending on the type of project you are doing. If you are wanting to make large decaled t-shirts the 12″x10″ could cover the surface and apply in one easy step.
The 9″x9″ is an all around great size for pretty much any HTV project, but also easier to take with you on the go.
The mini size is just right for smaller projects like adding decals to canvas shoes or other small or awkward surfaces like hats. This size is of course extremely easy to use and portable.
The newest heat press of course is the Cricut mug press. You no longer have to awkwardly apply heat to your curved mugs for sublimations!
What Features Can I Expect From A Cricut Easy Press 2 Heat Press?
Cricut easy presses feature a unique heat plate with a ceramic coated surface. This ensures an even distribution of heat for professional heat transfer vinyl (HTV) application each and every time.
Unlike a traditional clothing iron which unevenly distributes heat and could ruin your project entirely, the easy presses by Cricut are designed just for HTV projects of all kinds.
What You Get With The 12″ x10″ and 9″x 9″ Easy Press 2
Incredibly professional iron on results in just 60 seconds or less
Exact and precisely controlled temperature up to 400 degrees Fahrenheit
Insulated resting base & shut off safety feature
USB port feature for future updates
A practice project
Light weight
What You Get With The Cricut Easy Press Mini
Compact size for small or unusual projects of all kinds
3 Convenient heat settings for heat vinyl projects and infusible ink projects
An insulated base and safety shutoff feature
Extremely light weight (1.5 pounds)
What You Get With The Cricut Mug Press
Optimized press for infusible ink sublimation transfers
Custom mug making abilities
No manual temperature or pressure settings
Heats with patent pending heat plate for even heat distribution
How do I use a Cricut heat press?
Honestly these heat presses are simple to use. Simply plug them in and set the heat setting according to the material you are using. How would you know what heat setting to use?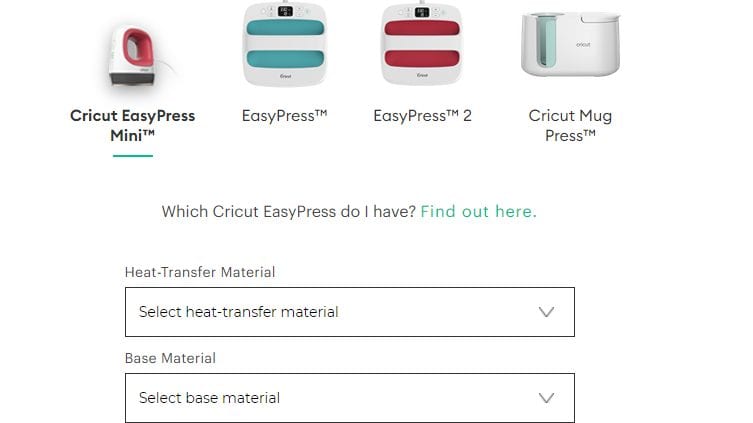 All you have to do is access the heat guide which can be found here and simply select the heat-transfer material you are using as well as the base material.
After you've selected your materials you will be given the perfect time and temperature to set your Cricut heat press to.
Once you've selected the correct setting your heat press will heat up as expected. Then all you have to do is press the Cricut button to start your timer and hold it lightly onto your project surface until the press beeps!
Of course every project is unique so definitely follow the instructions that Cricut has for you.
What types of projects can I make with a Cricut heat press?
There are so many unique possibilities for creating things with a Cricut Easy Press 2, Easy Press Mini, or even the Cricut Mug Press.
Many people are using these presses to bring their creations to life and some even run their very own online shop or Etsy store.
T-shirts are one of the top creations you could make with a Cricut Easy press. They sell pretty well as clothing is always a popular option. Especially if you have a one of a kind idea for t-shirt design.
I particularly love this video tutorial that shows how to use the Cricut Easy Press 2 with a Cricut machine SVG design.
You can also apply HTV or infusible ink designs to
Tote bags
Hats
Canvas Shoes
Wood Signs
Mugs
Plates
Trays
Lots more!
Are you thinking about purchasing a Cricut heat press?
Things to consider: Do you want to make heat transfer vinyl projects to sell or gift? Are you considering running an Etsy shop or something similar?
If you answered yes to either of those questions you may be ready to get a Cricut Easy Press 2, Cricut Easy Press Mini, or even the Cricut Mug Press to get started right away.
You can find all of the Cricut heat presses linked conveniently here!
Why can't I use a household heating iron?
Many household heating irons are often small or oddly shaped. This leaves a very uneven or small heating surface for your projects.
Heating presses yield much more professional results. Uneven heat application can lead to improperly fixed HTV that may fall off or even not apply at all.
Much more pressure is needed when using a household heating iron. Not only this, but there is little to no control of heat distribution. This can lead to unsightly heat marks or even melted vinyl.
That being said, household irons are still an option if you are very careful.
Pros And Cons Of Owning A Cricut Heat Press
Pros
Evenly distributed heating surface due to ceramic coating and design.
Safety features including raised resting base and automatic shut off.
Easy to use with heat guide settings.
Lightweight.
A heat press is available for any size of project including mugs.
Clear digital window shows you the temperature and timer.
Beeps to let you know when finished heating.
More reliable than household iron.
Cons
Price could be out of range for some
May seem complicated to use at first
The Takeaway
While these Cricut presses may feel a bit pricey I believe they are worth it overall. With the amount of projects you are able to make using these presses you could easily sell them to make your money back in a short time.
Whether you are gifting or selling your creations you could absolutely benefit from how easy and ergonomic these presses are to use.
They are much more user friendly than a traditional household heating iron and of course yield much more professional results.
In my opinion the choice is pretty clear if you are interested in making and applying HTV decals or infusible ink to your projects regularly. I would recommend these Cricut heat presses to anyone looking for a quality press.
I hope this post helps you make an informed decision when it comes to buying a Cricut heat press!
Feel free to leave a comment about the lineup of Cricut heat presses and your experience with using them. I would also love to hear what you've made using them if you have! You can send pictures of your projects to sincere[email protected] for a chance to be featured on the website!
Also, if you enjoyed this post you may like a few of my others!
The best Cricut tools to get as a beginner