Want another cool thing to do with resin? How about making your own cute resin hair clips for every day use! You can make these so easy and they make a great addition to any craft shop. So whether you are looking for a new resin craft to sell or sport around this post is exactly for you!
As an Amazon Associate this post contains affiliate links. I may be compensated a small amount if you should click and purchase anything through them. This is at no extra cost to you.
What You Will Need
Silicone Hair Clip Molds
Metal Base Clips
Resin
Locktite Gel Control Superglue
(Optional) Decor such as dried flowers, polymer clay, alcohol ink, mica powder, pigment.
First Prepare Your Work Area
Pick out the silicone mold(s) that you are wanting to use for the project. Lay it out on on a flat surface. I have a special work table for resin because a level surface is important when working with it.
Here is the exact silicone mold set I have been using for my resin hair clips and pins. And I love it!
Choose Your Resin Hair Clip Decor
Decide what you want to do with your resin hair clips before getting started. This will make the process so much more simple and fun. Fumbling around finding things when resin is involved can become a mess.
You have tons of options when it comes to decorating your resin hair clips. For my hair clips I chose to use pressed flowers and mica.
I used a pair of tweezers to handle the small pressed flowers. For my mica hair clip I simply mixed it into the resin.
Mix Your Resin
Get your resin mixed evenly. Be careful to follow directions on the bottle or directions that come with your resin kit. I used a PUDUO Epoxy Resin kit for my projects. This kit comes with reusable resin measuring cups, popsicle sticks, and gloves which is really nice.
This particular resin is a simple 1:1 ratio. If you are a total beginner when it comes to resin I recommend reading this post first.
Once your resin is mixed you can then add mica or pigment to color it or simply leave it clear.
---
Decorate Your Hair Clips
At this point you can choose how you want to decorate your hair clips. I placed pressed flowers down inside my hair clip mold.
It is easy to place the flowers with a pair of tweezers. You can also add things like polymer clay or gold foil.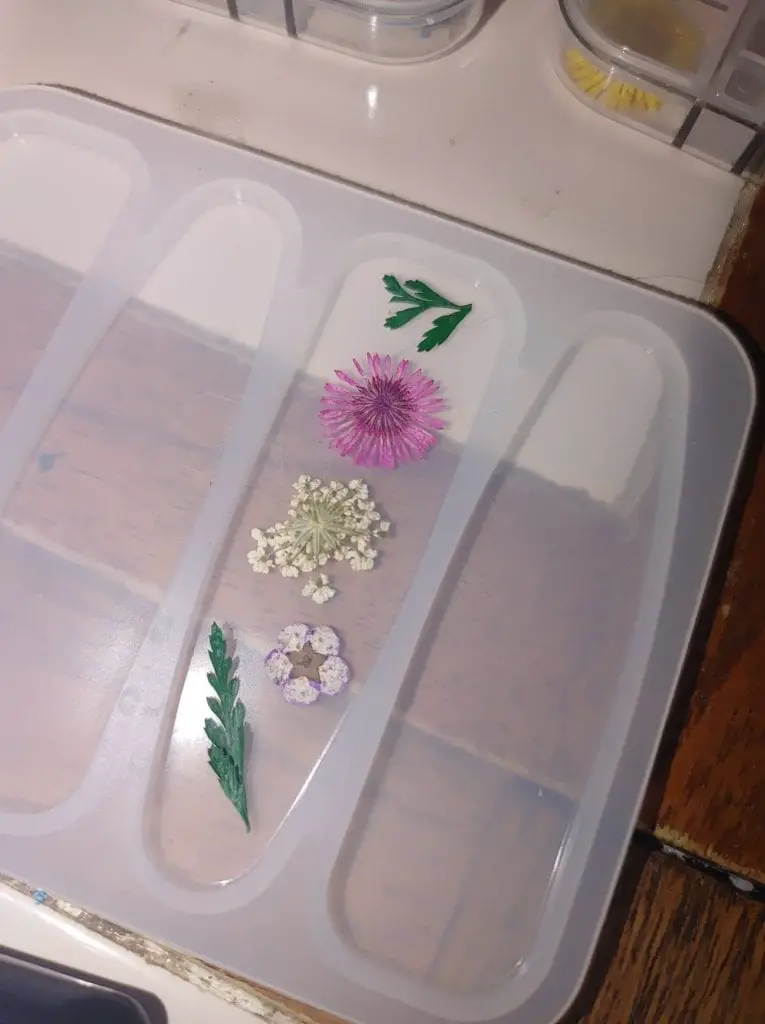 Pour Resin Into The Hair Clip Mold
Simply pour the resin into your hair clip mold. Be careful not to overflow the mold as hair clip molds are pretty thin. Some people like to use droppers or plastic syringes. This is all up to you, but I had no trouble just pouring my resin from the mixing cup.
Apply A Bit Of Heat To Your Resin
Using a heat gun, apply heat to the top of your resin. This will aid in reduction and elimination of resin bubbles. Sometimes air can become trapped under your pressed flowers, or pieces you've added to the resin.
These bubbles will often show up after the resin has cured as an unsightly hole in the piece. To prevent this I recommend applying heat to your resin and moving the surface gently around to bring the bubbles up.
Demold The Resin Once It Has Cured
The particular resin I used for this project claims to cure in just 8 hours. This may be true, but to play it safe I always like to wait a full 24 before demolding my pieces. This reduces the chance of putting an unsightly finger print or dent in your piece.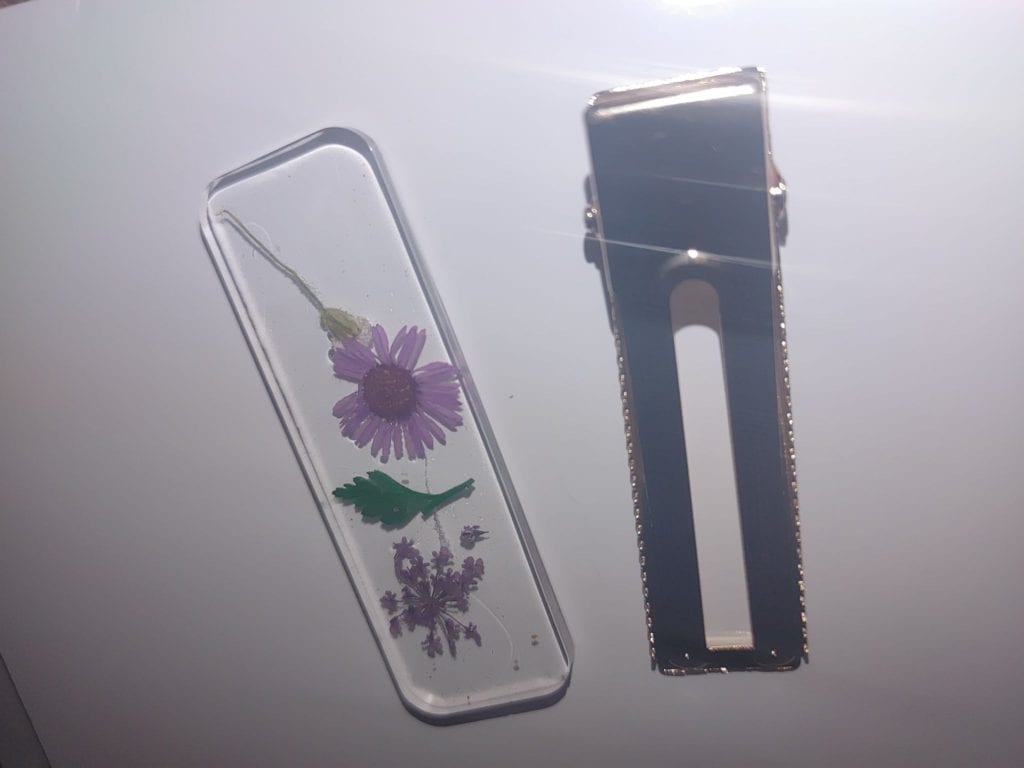 Epoxy resin tends to stay a bit bendy compared to other types of resin. For that reason I do like to wait a bit longer.
Once you are sure the resin has cured, pull it from the mold and find the matching metal clip.
Apply Loctite Super Glue
I like to secure the metal clip to my resin piece using Loctite Super Glue Gel Control. This particular super glue is easy to use and it comes out only when you press the blue buttons on the side of the container. This gives you great control when it comes to applying it.
A little bit goes a long way with this stuff. I've found that the resin really reacts well to this stuff and sticks extremely well to the metal clip. You really only need a little bit on each end of the clip, but you can apply it where you think you'll need it most.
Hold the metal clip and press it firmly where you want it on the resin piece. The clip will bond to the resin in seconds, but maintain a firm but careful press for a few seconds. Sit your clip aside so it can dry for a while before use.
You Now Have A Functional And Cute Resin Hair Clip!
So now you get to decide what hair clip you are going to wear each day or which design you are going to sell online in your Etsy shop. Decisions decisions! These make excellent gifts like most resin creations.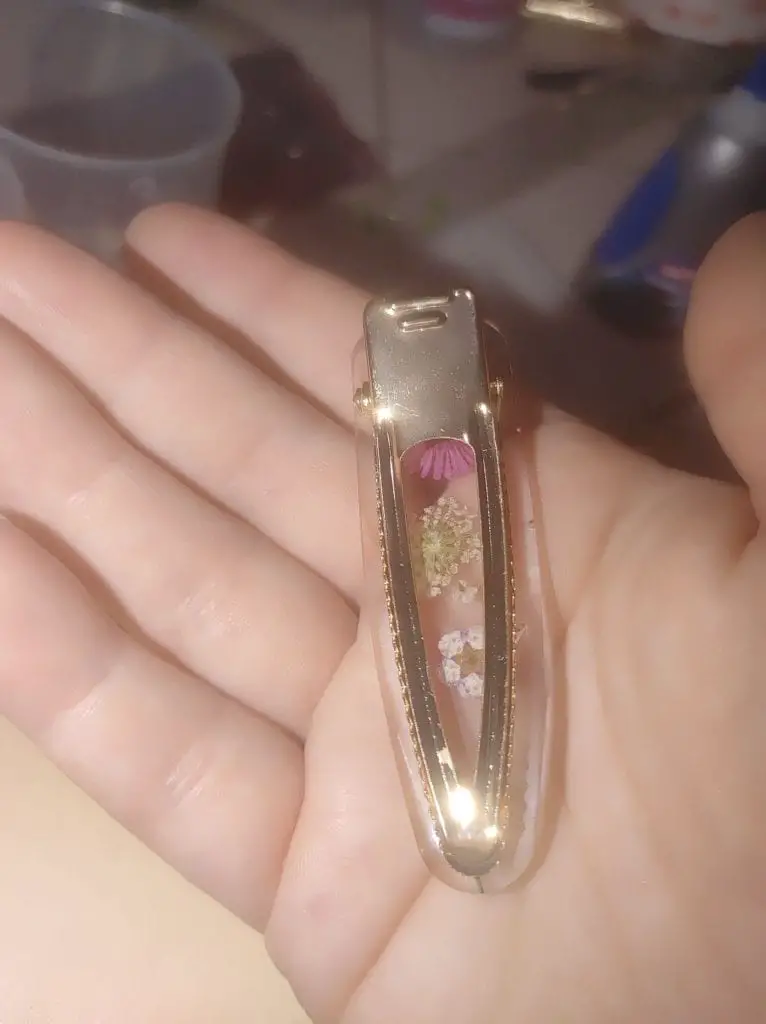 Make your very own resin hair clips and let me know how it goes! As always, feel free to email in your designs for a chance to be featured on my website! I love to see your creations!
If you like this post, you may like a few of my others!
9 Superior Resin Tips For Beginners
5 Best Tools For Working With Resin Like A Professional
10 Fall Resin Crafts To Make And Sell Online