In this post I'll be telling you all about the enchanting world of childrens stencils. Stencils can allow children to achieve their most sought after creativity and artistic style. Their love for art and design can be grown, and fine motor skills developed. All of this can help them on their overall learning journey. In addition, stenciling can lay the foundation for self expression. Stenciling is both a fun and practical activity!
This post contains affiliate links. This means I may be compensated a small amount if you click and purchase something through them.
What Childrens Stencils Are Best To Start With?
When you are looking for childrens stencils to start with, it is most important to take into consideration the interest of the child. For younger children some great options include the fundamentals like shapes, numbers, letters, and simple animals.
By starting with these simple foundational designs you allow the child to build skill and confidence to move forward with more complex stencils.
For older children you can select more intricate stencil designs to keep things exciting for them.
Fundamental Stencils To Try
If you want to get a great set of fundamental beginner stencils for your child or a child you know, this stencil package is great!
This set includes primary shapes, bright colors and a durable design.
These stencils can be used with paper or outdoors on the sidewalk as well.
Tips For Using Childrens Stencils
Keep in mind when it comes to stenciling with children it is important to choose the right kinds of art tools.
Try to use sturdy pencils, washable paints, and quality paper when working with the child. Paper that rips too easily or pencils that break can discourage the child from wanting to explore their creativity.
Reasons why the right tools and environment is helpful to a child who is learning to use stencils.
The child will feel more comfortable.
They will not be worried about making a mess that can't be cleaned up.
They can feel better about getting creative.
The child will have a lot more fun.
There are stencils for all ages and abilities.
Overall, stenciling is a fun and great activity for children to enjoy. There are stencils for all ages and abilities. Finding a stencil or stencil set that suits your child may take a little time but don't give up!
If you don't know where to find good stencils I suggest checking Amazon.
Amazon has a wide selection of stencils to choose from. They come in all sorts of price ranges and age suitability.
Looking for a cheaper alternative? You can make your own stencils at home!
What can I use to make childrens stencils?
You probably have most of the things you need to make them right at home in most cases.
Materials such as cardstock, cereal boxes, or even old folders can make for the perfect stencil material.
Draw the design you want onto the material and then cut it out carefully with scissors or a crafting knife.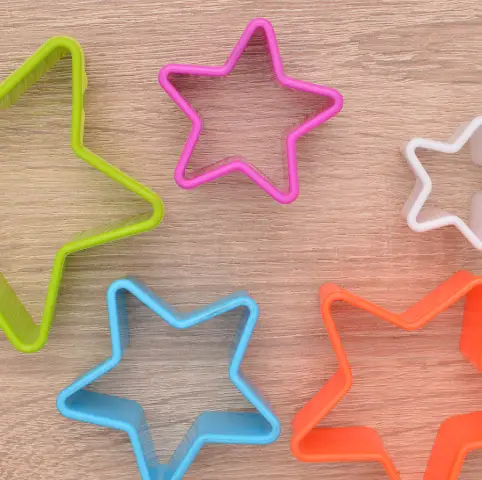 You can even try using cookie cutters. These often work great for young children.
Check Out These Other Great Stencil Sets
If you are looking for a stencil set that is suitable your child, it can be helpful to read reviews from other parents or to ask for recommendations from your local art supply store.
Otherwise you can take a look at these two sets that I recommend from Amazon.
Animal Stencil Set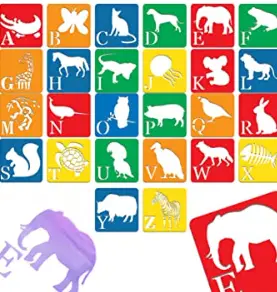 These reusable and washable stencils are suitable for children ages 4-8 and are perfect for creative thinkers.
Ultimate Stencil Set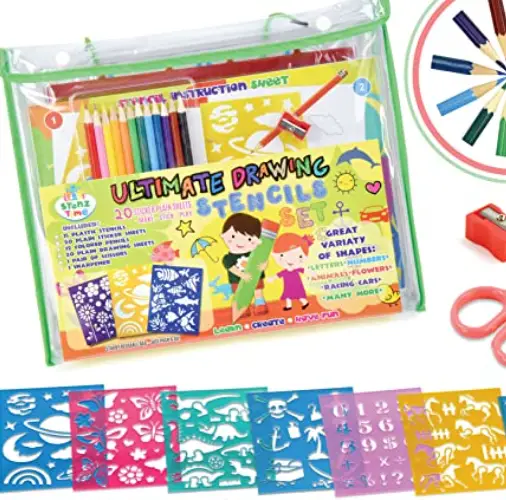 This stencil set is actually all inclusive. It comes with colored pencils and a wide variety of childrens stencils for all ages.
Where can I find stencil tutorials?
When you want to find stencil tutorials you can check out Youtube or Pinterest for great ideas. Stencil tutorials can help children learn how to use them in fun and engaging ways! You can also find stencil tutorials in craft books.
As children learn how to stencil they can graduate to more sophisticated techniques such as layering or shading for cool effects.
Stencils make great gifts.
Stencils make great gifts because there are so many designs out there that you can find something that aligns to every individual.
The gift of stencils is simple, inexpensive, yet educational and functional for growing minds. Not to mention they are extremely fun to use even for adults.
End Word
Stencils are the perfect beginner outlet for creativity. If you know or have a child that is exploring the art world then I highly recommend stencils as a fun first activity to try. Stencils can provide hours of entertainment.
Stenciling is not too difficult but also not lacking of challenges for young minds to overcome. Overall, stenciling is highly rewarding!
I hope you liked this post about childrens stencils and feel more confidant in making or purchasing stencils for the little one in your life.
Happy Crafting!