Do you love to shop at Dollar Tree? If you do, then you know this store is perfect for inexpensive DIY supplies and more. Especially Dollar Tree picture frames. This store is not just affordable, it's downright cheap, and it is one of the only stores you look forward to how much you have to pay at the end. If you've never been to Dollar Tree, I highly recommend it, and if you don't have a Dollar Tree nearby, you can check out their online store instead! In this post, I will discuss Dollar Tree picture frames, where to get them, and how to use them for fun DIY projects!
*This post contains affiliate links. This means I may earn a commission if you click and purchase something through one of the hyperlinks I provide. This is at no extra cost to you.*
What kinds of Dollar Tree picture frames are available?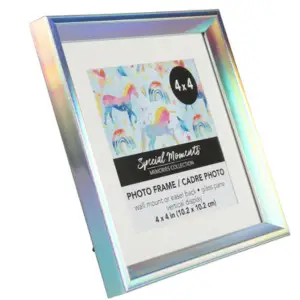 Dollar Tree has a wide variety of picture frames online and in stores. However, if you've been to a local Dollar Tree, you know that sometimes the inventory varies.
That is why I prefer to shop at the online Dollar Tree store if I want something specific, but likewise, you can sometimes find cool stuff in the store that you can't find anywhere else. Dollar Tree shopping is always an adventure!
The picture frames range from 2×3 inches to 8×10 inches, but some specialty frames, such as documents or collages, are also available.
The cool thing about Dollar Tree frames is that the larger frames are just as affordable as the small frames.
That's just the Dollar Tree way!
What can I make with Dollar Tree picture frames?
#1. Picture Frame Lanterns
Using picture frames, you can arrange and attach them to make a rectangular lantern shape. Add votives, fairy lights, or led candles in the middle of the frames to light up the lantern. Add decals or other decors to embellish the lantern. You can check out my video lantern tutorial here!
#2. Jewelry Organizers
Make a fun new jewelry organizer with a simple yet elegant transformation. Start by gently removing the glass from your picture frame.
Add the delicate charm of a sheet of lace or wire to make a creative jewelry organizer. Carefully attach the lace or wire to the frame, creating a stylish backdrop that beautifully showcases your favorite necklaces, earrings, and bracelets.
#3. Mirrors
Embrace a captivating decor upgrade by transforming an ordinary picture frame into a remarkable statement piece. Begin by carefully measuring a mirror sheet to fit the frame perfectly.
Once measured, delicately remove the backing and glass from the picture frame, unveiling a blank canvas for your creativity. Securely attach the mirror sheet, allowing its reflective surface to breathe new life into the frame.
Custom picture frame mirrors make lovely focal points for your home decor.
#4. Frame Wreaths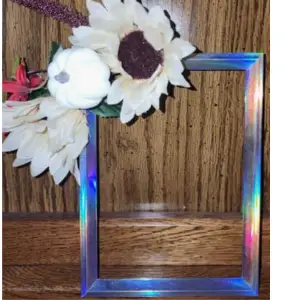 Add a touch of uniqueness and modern charm to your door or wall with a one-of-a-kind frame wreath. This captivating creation brings a fresh, geometric look that stands out.
Combining shapes, lines, and textures creates a stunning piece that effortlessly fits into any decor style. Let your creativity shine with this unique wreath display!
#5. Terrariums
Embrace your inner green thumb and infuse your living space with natural beauty by repurposing frames into enchanting plant holders. Much like creating a lantern, you first attach the frames into a rectangular shape.
Add an assortment of pebbles inside, creating a stable foundation for your new terrarium. Layer on some nutrient-rich soil, providing a lovely bed for your plants to thrive.
Consider incorporating air plants for a touch of whimsy and effortless maintenance. These fascinating plants can thrive without soil, making them ideal for this imaginative display.
There are tons of cool things you can make with Dollar Tree picture frames!
The sky is the limit when it comes to making crafts, but picture frames are very versatile to work with, and the great thing is that Dollar Tree frames are inexpensive and won't strain your wallet.
I highly recommend that you check out their selection, and feel free to experiment with your picture frame crafts.