Want to learn how to make beautiful resin succulent plants that you never have to water or care for? These resin succulents are so adorable and are easy as pie to make yourself! Impress your friends and family with these deceivingly realistic resin succulents that you don't even need a green thumb to grow!
* As an Amazon Associate this post contains affiliate links. That means if you should choose to click and purchase something through them I may be compensated a small amount at no extra cost to you.
Getting Started
For this resin craft you are going to need just a few simple things to work with.
Silicone Succulent Molds
Epoxy Resin
Colorant (Mica Powder)
Which Resin To Use?
I specifically used Alumilite's Clear Casting Resin for this project.
Let me tell you, this resin dries so much quicker than other resins I've tried. It is nice and thick and dries nice and hard too!
Get Alumilite Clear Cast Resin Right Now On Amazon
Which Molds To Use?
Next, you will need high quality succulent molds.
What I've found is that for this mold you are going to want a silicone that isn't rigid. After reading multiple reviews I found a set of molds that others really enjoyed.
This mold is nice and squishy so it is super easy to take the succulents from the mold without harming them.
Get this succulent plant mold from Amazon right now.
Which Colorant To Use?
Finally you are going to need a good colorant for your resin succulents. I really loved mica powder for this project rather than a liquid colorant.
It is totally up to you because there are so many creative way to color these. I went with a semi-realistic color scheme. Greens and blues mainly.
Grab a mica powder set right now on Amazon.
Mix The Resin In A Reusable/Disposable Measuring Cup
The first thing I did after preparing all of my necessary items is mix the resin in a large reusable silicone measuring cup.
You may have a plastic or paper disposable one on hand, but whatever works. I mixed about 80ml of clear resin to begin with.
Then I divided that resin into paper dixie cups and added a sprinkle of mica powder to each.
This way you can have multiple colors.
Pour The Colored Resin Into The Molds
Carefully pour your resin colors into the molds. Mix and match the colors if you like or go with more realistic solid colors.
I chose teal and kiwi colored mica. I think the teal turned out beautifully.
Use a heat gun to pop any surface bubbles and then allow the succulent molds to cure for up to 24 hours.
This is usually my procedure for most resins, but I noticed the Alumilite resin cured much quicker.
Demold your beautiful succulent resin plants once they've hardened/cured properly.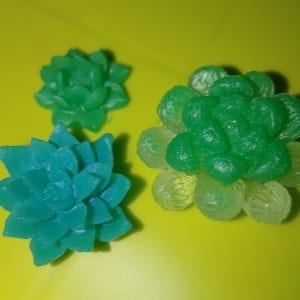 Aren't they so beautiful? I was so impressed with the detail because just by looking at the mold you couldn't tell how intricate they were.
Create A Pot For Your Beautiful Resin Succulent Plants
You can't have these darling succulent plants without an adorable pot to go with it.
First you will need molds large enough to hold the plants themselves.
I found these container molds that made perfect pots.
Grab silicone container molds right now on Amazon.
For these, my daughter and I mixed rose gold foil flakes into some clear resin and poured it into the center of the container until it was filled nicely.
We also opted to add clay polymer flowers for a sweet touch!
Once the resin pot had cured we demolded it and filled it with blue vase filler gems.
You could choose sand, dirt, or layer gravel as an alternative if you like.
I chose to top my pot off with reindeer moss.
The Final Result
These resin succulent plants turned out beautifully and realistic! I was surprised because of how shiny the mica colors were, but they looked so nice!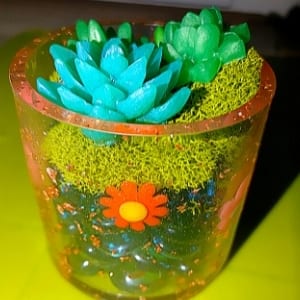 I've found that these really liven up a room and look so vivid and alive. Use them to decorate your living space, dorm, or tables.
I think they put off a really wonderful Spring vibe that I'm sure many of us are longing for after enduring the Winter months.
Let me know how your own beautiful resin succulent plants turn out!
Feel free to comment or share pictures if you try this craft at home! I look forward to sharing a new craft with you next week!
Send emails to [email protected]
Be sure to follow me on Pinterest to keep up with our crafts!
If you loved this post then you may like some of these other resin related posts!
How to use resin with your Cricut projects
20 Stunning resin crafts to make and sell