Ever wanted to learn how to make sugar scrubs? In this post I am going to show you exactly how to make a decadent vanilla coconut sugar scrub that has many great benefits to skin. You will only need a few key ingredients and it's actually quite easy! Let's begin!
As an Amazon associate this post may contain affiliate links for which I may be compensated a small amount if you choose to purchase something through them. This is at absolutely no extra cost to you.
What You Will Need For This Recipe
A Cup Of Sugar
1 Cup of Melted Virgin Coconut Oil
1 tsp of Organic Cinnamon
2 tsp of pure vanilla bean extract
(Optional) 1 tsp of vitamin E oil for extra skin health benefit.
Disclaimer & Friendly PSA: Coconut is a tree nut. If you have an allergy to tree nuts you should not make or use this. Nor should you sell it without disclosing properly that the product contains a known allergen.
Getting Started
Firstly, pour 1 cup of granulated sugar into a large mixing bowl. Make sure the sugar is granulated and not powdered. I know it goes without saying, but the granulated sugar offers the exfoliating scrub properties.
Secondly, melt some coconut oil in the microwave. Begin adding coconut oil slowly to the sugar and begin stirring. The more coconut oil you add, the more creamy your scrub will be. If you want a thicker scrub just add less coconut oil.
Whisk In Your Other Ingredients
Thirdly, Add in the 1 tbsp vanilla bean extract and 1 tsp organic cinnamon. You may have to stir the sugar scrub for a while to make sure that all of the ingredients are dispersing into the mixture evenly.
Here's why I chose these ingredients!
Vanilla beans contain vanillin which has powerful antioxidants. Vanilla has long been used to soothe irritated skin with its anti-inflammatory properties.
Cinnamon supports healthy blood flow through your skin. It is a known anti-fungal, anti-bacterial, and antioxidant.
Sugar is an incredible exfoliant and skin balancing ingredient.
Coconut oil is known to have tons of benefits. It moisturizes skin most importantly. It has also been used to heal skin inflammation as well as protect it from bacteria.
So many benefits in one lovely sugar scrub!
Coloring Your Scrub
There are multiple ways to color a sugar scrub. But, for this scrub I personally used regular food grade coloring. For a more natural recipe you can totally omit coloring.
If you want to use a coloring, but keep it organic you can always use something like natural carrot root dye or activated charcoal. For some extra fun you can add a bit of sugar sprinkles to the top of the sugar scrub.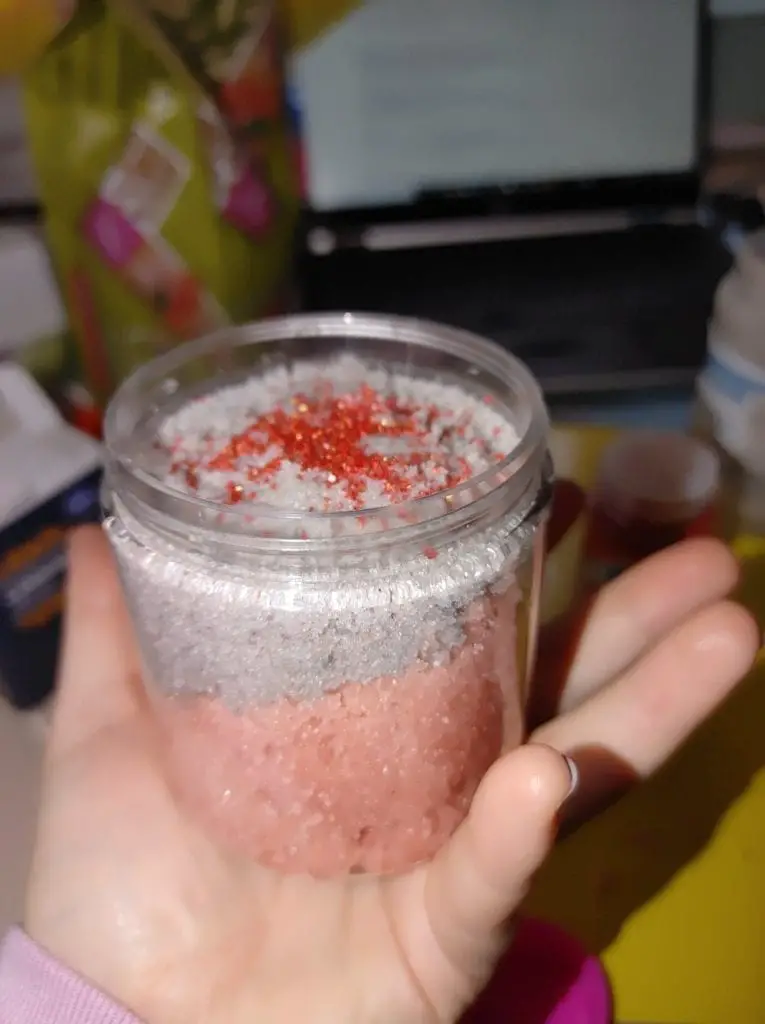 Pretty It Up!
Pour your scrub into a container or jar of your choice. However, I personally put mine into a plastic bpa free beauty product container. I also tied a ribbon around the top just to add a feminine touch.
Packaging these to sell or gift can be a lot of fun. In my experience customers really enjoy getting a little extra care when it comes to packaging.
Easy Peasy!
And there you now have your very own vanilla coconut sugar scrub. Leave it on your feet or skin for 10 to 15 minutes at a time. Rinse it off with warm water! As a result, your skin will feel so refreshed!
In conclusion, sugar scrubs make wonderful gifts and you can even sell them in an Etsy shop!
Want to learn more about making crafts to sell online? Check out these other posts!
The easiest things to sell on Etsy in 2021