Because my soy candle tins have been such a high demand item on my Etsy shop in recent weeks, I am going to show you exactly how I make them. They are very easy to make, and they are so splendid and charming to look at. They really will liven up just about any room. Let's begin!
*As an Amazon associate this post contains affiliate links for which I may be compensated a small amount if you choose to click and purchase something through them. This is at absolutely no extra cost to you.
Find A Set Of Pretty Tin Containers
I was lucky enough to find these beautiful tins on sale on Amazon. I suppose you could simply purchase cheap tins and decorate them, but these were so very beautiful and charming I had to have them. Turns out a lot of people wanted them too because I've sold quite a few in person and online.
Weigh Out Your Soy Wax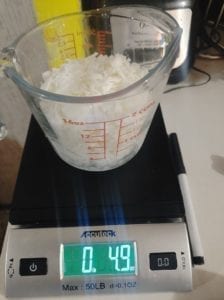 It is best to have an accurate weight for your soy wax so you can determine how much will fill your candle tin and how much fragrance oil to use in it. A great rule of thumb is 1 ounce of scent oil per pound of soy wax. Typically you will want to measure double the amount your container holds in ounces to determine how much wax you need. For example if your container holds 4 ounces you will need 8 ounces of wax.
Begin Melting Your Soy Wax
You can use a metal pouring pot for melting your wax or you can do it with some regular kitchen items. For this demonstration I simply took a heat resistant measuring cup and filled it with wax. Then I put it in a pan roughly 3/4 full of water and brought it to a boil. This will melt your wax just fine. I tend to use medium heat, but sometimes medium high just to get started. Soy wax tends to melt around 180-185 degrees Fahrenheit.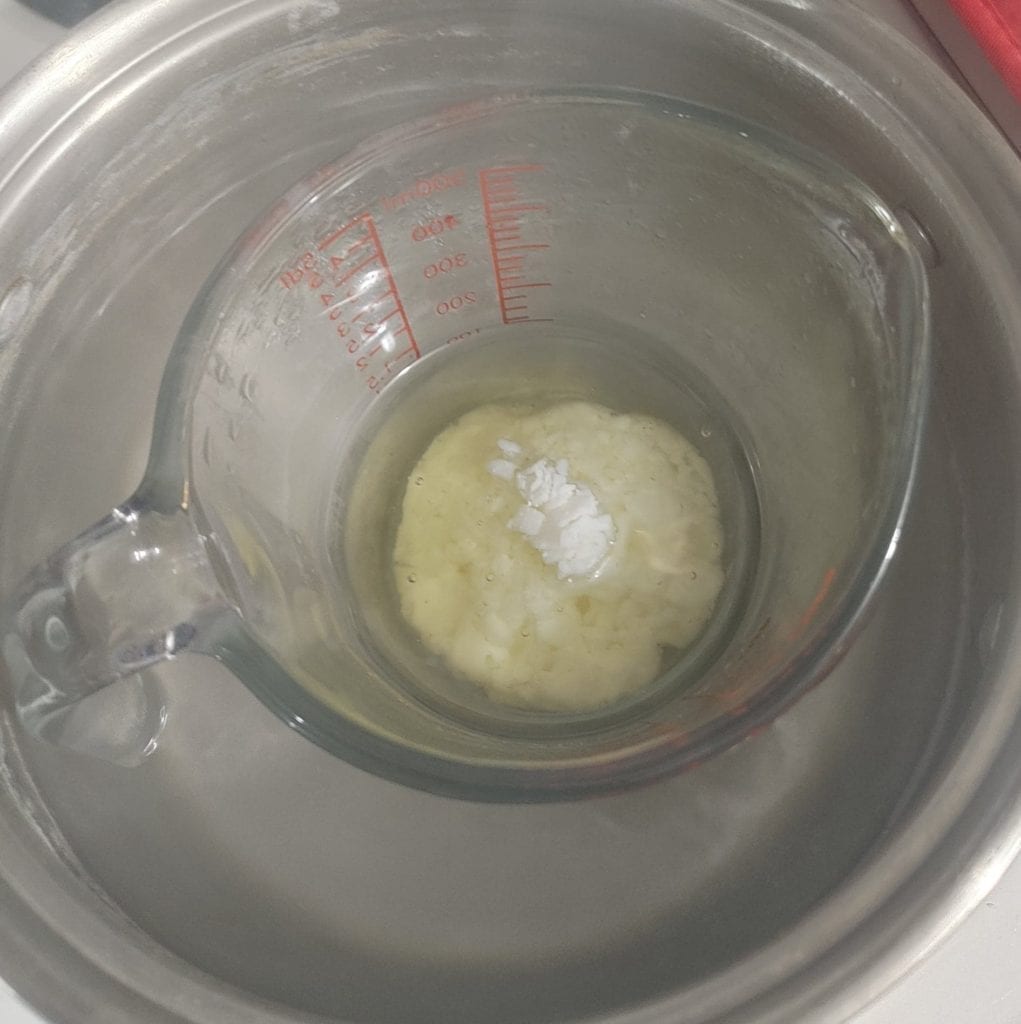 Prepare Your Candle Wick
Using a metal fastener you can easily position your wick in the center of your candle tin. You can also put a bit of melted wax on the metal collar of the wick to hold it in place. This is totally optional. In this demonstration I used regular braided cotton wicks. I also sometimes like to use crackling wood wicks or zinc cored wicks.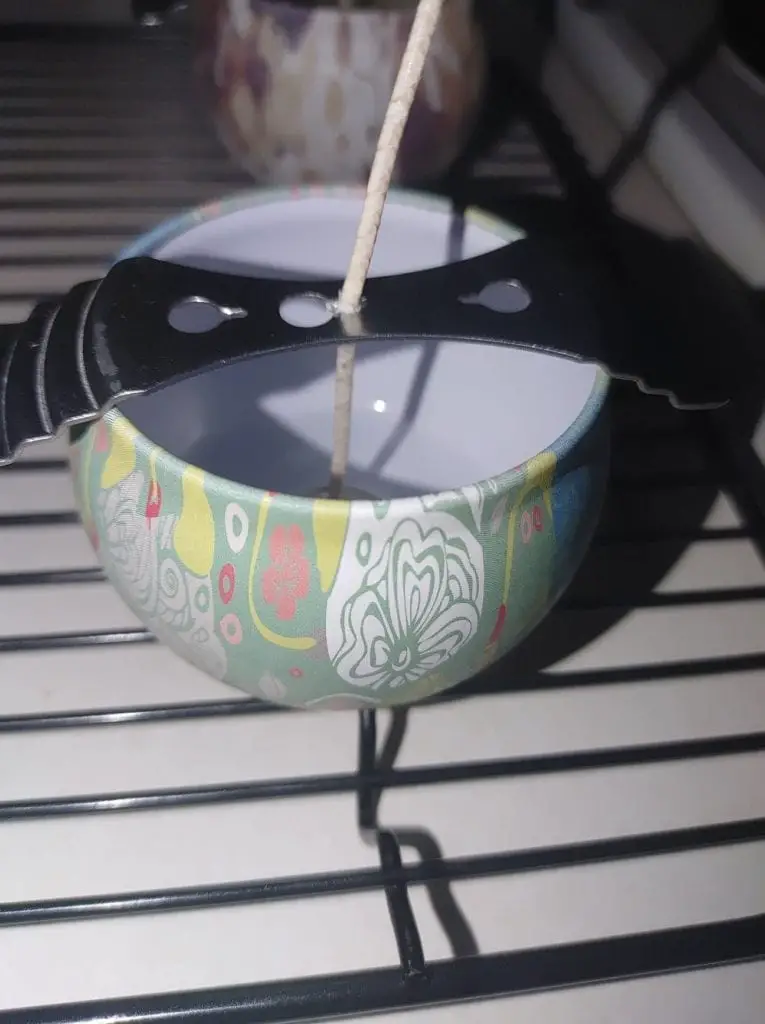 Add Scent & Color
As soon as your soy wax is finished melting remove it from heat so it can begin to cool. Using a candy thermometer or touchless thermometer check your soy wax temperature. When the temp is around 185 degrees Fahrenheit you can begin to add your fragrance oil and color. Make sure to stir your color and scent gently but thoroughly.
Fragrance Oil Ratio – 1 ounce fragrance oil per pound of wax.
Color Ratio – 7 to 8 drops of liquid color per pound or 1/8th Crayola crayon.
Now, pour your wax into your candle tin slowly and carefully.
Let Your Soy Wax Harden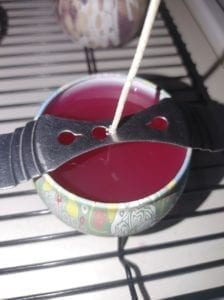 Allow at least an hour for your soy wax to set up and harden. Once the wax is hardened you can remove your metal positioning device or any positioning device you used and trim your wick. Trim your wick to 1/4 inch. This may seem small, but it ensures that your wick won't be too tall and helps create a more even burn pool in your soy candle tins. You will find that your burn pool varies greatly depending on the size and type of wick you use. Experimenting is always a good idea to get the perfect burn.
Light Your Candle And Enjoy!
The final step to making your soy candle tins is lighting and enjoying them! These soy candle tins are so beautiful and fun to look at. They truly do brighten up any room and provide a great aroma. Feel free to make these to sell or gift too! People love candles!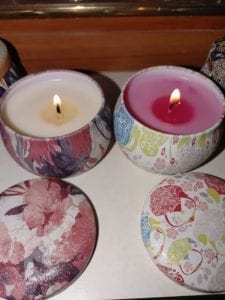 Let me know how your soy candle tin making endeavors turn out! Remember to stay happy, healthy, and crafty! 
and….
If you enjoyed this project, then you may enjoy some of my other crafty posts!
How to make unbelievably exquisite painted rocks
How to make elegant water candles
Top 10 money making crafts to sell online