Giving handmade DIY gifts is one of the greatest ways to show someone how much you care. Although at times it is difficult to find the perfect gift idea to express your sentiment. In this post I've compiled a list of 15 DIY gifts you can make that will leave a great lasting impression courtesy of Craft Stash.
What is Craft Stash?
Craft Stash is a complete treasure trove of creative potential wrapped in one convenient website. At Craft Stash you will find every material and more that you will need to bring your artistic DIY visions to life! Throughout this post I will provide hyperlinks for your convenience.
As an affiliate of Craft Stash and Amazon if you should choose to purchase through my links I may receive a commission. This is at no extra cost to you!
#1. Personalized Photo Album
A personalized photo album is a wonderful gift idea that's perfect for any occasion, from weddings and graduations to birthdays and holidays. You can add captions, quotes, or notes to each page to create a personal touch and make it unique.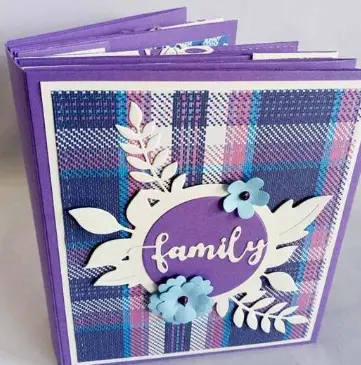 #2. Handmade Soap Dispensers
All you need to get started with this DIY is a glass jar, a soap pump top, and vinyl stickers or paint. You can decorate the soap dispenser however you like!
#3. DIY Paper Bouquet
Paper bouquets are one of the most thoughtful and unique DIY gifts you can make with the help of Craft Stash. Unlike real flowers that will ultimately wilt and lose their luster, paper flower bouquets will last for a long time and make wonderful gifts. If you're looking for something ultra customizable as well as heartfelt then this is a great option.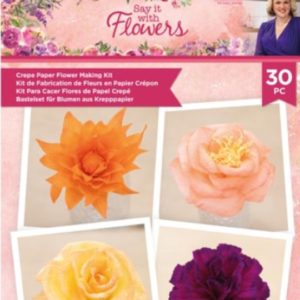 #4. Handmade Book Marks
DIY book are a lovely personalized gift you can give because there are so many ways to customize them. You can craft them from paper, leather, or even felt! Add a personalized touch to make the gift even more special.
What can I add to a personalized bookmark to make it more special?
Birthstone or zodiac sign
Monograms
Logos
Tassels
Embossing
Favorite Colors
Quotes
Name
Initials
These are just a few ideas of what you could add to a personalized bookmark. You can even make a book mark by pouring resin in a silicone mold!
#5. DIY Greeting Cards
Greeting cards can be easily made from cardstock, construction paper, or even fabric. You can add as many visual embellishments as you'd like and experiment with tons of colors and designs.
You can cut and fold the card yourself or you can even use something like a Cricut cutting machine or die cutter. A die cutter uses metal dies to cut out intricate designs and shapes with precision.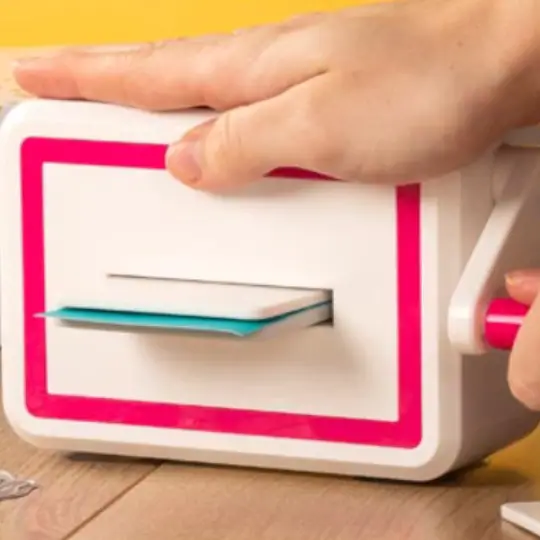 #6. Paper Wreaths
Cut out paper with scissors or a trusty cutting machine to make leaves and flowers. Hot glue them onto a wreath form or wrapped metal coat hanger to create a beautiful and unique gift.
Paper wreaths are wonderful because you can hang them anywhere in the home or on the front door for a long lasting decor. Luckily Craft Stash has you covered for all your paper craft supply needs!
#7. Origami
Fold paper and make crisp creases to form intricate designs and shapes. There are many tutorials across the web on how to achieve many interesting shapes and designs.
You can make things like flowers, objects, or even beloved animals.
#8. DIY Paper Lanterns
Using paper you can fold and shape it into a lovely personalized and decorated lantern. You can easily tape or glue the lantern together as well as add a battery-operated tea light to light it up.
Add glitter, ribbons, or stickers to personalize the lantern even more.
#9. Customized Tote Bags
Customized tote bags are so fun and easy to make. These make for a gift that can last for a long time and not only that but it will be functional as well.
You can embroider them, add iron on vinyl, or even tie dye them!
#10. Custom Note Books
This is a really fun an lovely DIY gift to give to someone. You can color, paint, or accessorize the cover of a blank notebook. Then you can write a personalized message on the front page for an added touch of love and sincerity.
Some crafters are even making their own covers from resin by pouring it into a silicone mold.
#11. Painted Flower Pots
If you have a family member who loves gardening, a personalized flower pot is a great gift idea. You can make it unique by painting it in various ways, such as using stencils, spray painting it, adding stripes, or using glitter paint.
Another idea is to add an outdoor vinyl cutout to the flower pot to make it even more special. The possibilities are endless, and your loved one will appreciate the thought and effort you put into creating a one-of-a-kind gift for them.
#12. DIY Wall Art
The sky is the limit for this DIY craft because you can make wall art from a variety of mediums. You can paint a picture onto canvas, pour paint for something more modern, or even design something unique from paper.
You could use vinyl cut outs to adorn your paper wall art and pop it into a nice frame to be hung for display. You can even add photos or other items of sentiment.
#13. Handmade Keychains
You can make keychains from leather, fabric, beads or even resin. Feel free to add monogram letters, quotes, or names as well for an added level of personalization!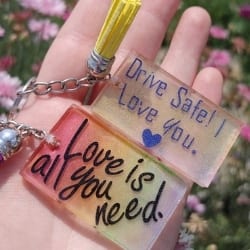 All you have to do is attach everything to a keyring and you've got an amazing DIY gift that will last a long time and can stay with the recipient wherever they go.
14. No-Sew Fleece Blankets
As a crafter that isn't exactly proficient with a needle and thread I can honestly say no-sew blankets are so much fun and so so easy.
Trust me if you can use a ruler and a pair of fabric shears you will be able to make a no-sew blanket. The great thing is that you can still select cute and personalized fabric to use and achieve the same level of functionality as a traditionally sewn blanket.
15. Custom Wine Glasses
There are a lot of ways to make custom wine glasses. You can simply purchase a blank glass and add vinyl decals, or you can get even more creative and paint them as well.
There actually are some great tutorials out there to check out. Personally I prefer to use mod podge and glitter.
1st – Tape off the part of the glass that you'd like to be colored with glitter.
2nd – Paint the desired area with mod podge.
3rd – Sprinkle the mod podge with glitter.
4th – Let the mod podge dry and add extra coats as needed.
5th – For finishing touch you can add a coat of triple thick or other sealer suitable for wine glasses!
DIY gifts are better
While I've provided 15 DIY gift ideas there are so many more things you can make for the people you care about that will truly make them smile.
Store-bought can't compare to the sentimental touch that comes with a DIY gift. That being said I hope that you can find what you're looking for to make your next DIY project.
With the help of Craft Stash you will have no shortage of paper craft supplies so I hope you get to pop over and browse. I hope that whatever you make leaves a lasting impression. Thanks for reading and happy crafting!