Rooster stencils are a wonderful way to add a little farmhouse charm to any interior or craft design! Do you know the symbolism behind the farm rooster symbol? Roosters represent protection, vigilance, and courage as well as the dawn of a new day! This makes them the perfect fit for any welcoming farmhouse home or decor.
*This post contains affiliate links. This means if you click and purchase something through them I may receive a commission. This is at no extra cost to you.
Where can rooster stencils be found?
Amazon – This is a go-to for almost any stencil needs as well as rustic farmhouse rooster stencils.
Etsy – Here you can find rooster stencils as well as many customized stencils made by crafters and artists.
Arts and Craft Supply Stores – You can check out arts and crafts stores such as Michaels, Hobby Lobby, or craft sections in Walmart and even the Dollar Store. You never know what kinds of stencils you might find.
Cricut Design Space – If you have a Cricut cutting machine you can browse the design space for rooster stencils or upload custom SVG files!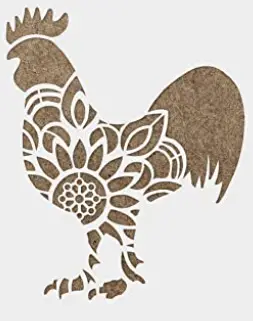 What can I use rooster stencils for?
Accent Walls
Create accent walls with rooster patterns or a large rooster design.
Kitchen Backsplashes
Use rooster stencils to customize a backsplash in your kitchen area.
Fabrics and Textiles
Customize your own throw pillows, rugs, table runners, curtains and more with rooster stencils.
Outdoor Patio/Porch Decor
Create signs, planters, stepping stones, or door hangers adorned with rustic rooster stencil designs.
How can I make my own rooster stencils?
Find a rooster image, ensure that it is copyright-free. There are many stock photos online that you could find. Print or draw the image you want. You can even freehand draw the design onto paper.
Stencils are best if kept relatively simple with very clear lines. You can remove unnecessary shading or features.
Trace the design onto a good stencil material. This can be cardstock, craft plastic, or mylar.
I recommend tracing with a fine tip marker so that the sketch is easy to see for cutting.
Cut out the stencil precisely and carefully using an X-acto or craft cutter.
Be sure to test your stencil and then you should be ready to go!
Rooster Stencils For Contemporary Farmhouse Designs
While roosters are typically a traditional design they can also be adapted to a more contemporary farmhouse deisgn.
Try experimenting with different colors and stencil sizes. You can create you own fresh take on this classic design.
An example of this would be to try a minimalist approach. Use a rooster stencil with neutral colors to add a sleek modern look to your kitchen. The sky is the limit!
Rooster Stencils For Rustic Farmhouse Designs
Want to spice up your rustic farmhouse vibes? Add a breath of fresh design to old furniture pieces such as tables, chairs, cabinets, or even dressers.
You can stencil roosters onto almost any piece of furniture and add a conversation starting and charming design.
Use rooster stencils to create a sign for entryways for kitchens, dining areas, or to display meaningful family quotes.
You can even create your own rustic artwork onto canvas or wood. Create a rooster art piece that compliments your home's rustic style!
Why should I use rooster stencils?
Using rooster stencils to create decor and designs will not only add character to your home, but keep your home inviting throughout the year.
Rooster stencils and the designs they can create have conjured beautiful spaces both traditional and contemporary in many homes.
There are endless possibilities! Rooster stencils make one of the best choices to create a welcoming atmosphere in your home or kitchen. For this reason it will always be one of my favorite designs.
I hope this post helps you find what you're looking for!
Happy crafting!
If you liked this post, you may also like a few of my others!
Children's Stencils – A fun introduction to art!