Today we are going to be diving into the world of Etsy sales. As a crafter and hobbyist I often get asked, "What are the easiest things to sell on Etsy?" After carefully considering I have decided to write a post to help my readers figure it out.
The online sales world has quickly turned into a huge free for all and it may be a bit confusing to learn how and what to sell. And most importantly what are the easiest things to sell on Etsy in 2021? Let's jump right in.
*As an Amazon Associate this post contains affiliate links. This means if you click and purchase something I may be compensated a small amount at no extra cost to you.
Before Selling – Optimize Your Etsy Account
Before you begin selling you need to get your Etsy account up to standard. A complete profile comes across as a professional profile. Appearance is extremely important when it comes to Etsy.
An incomplete profile shows lack of care and attention to detail which is not remotely what a potential customer would want.
Create a shop name that is easy to pronounce and spell. This will help customers find you and remember your name so they can return again.
Fill out every section completely and add a nice logo. Once your shop is complete you are ready to list items.
So What Are The Easiest Things To Sell On Etsy?
Back to the original question. I have two ways to look at this. You can decide which approach you'd like to take based on each of those ways.
The First Approach – Best Selling Items By Category
Our first approach to figuring out what the easiest things to sell on Etsy are, is by taking a look at the trend of best selling items by category. 2020 was an unprecedented year in which typical trends shifted due to the Covid pandemic.
This shift is likely to continue in 2021. Let's take a look at the top 5 best selling categories currently.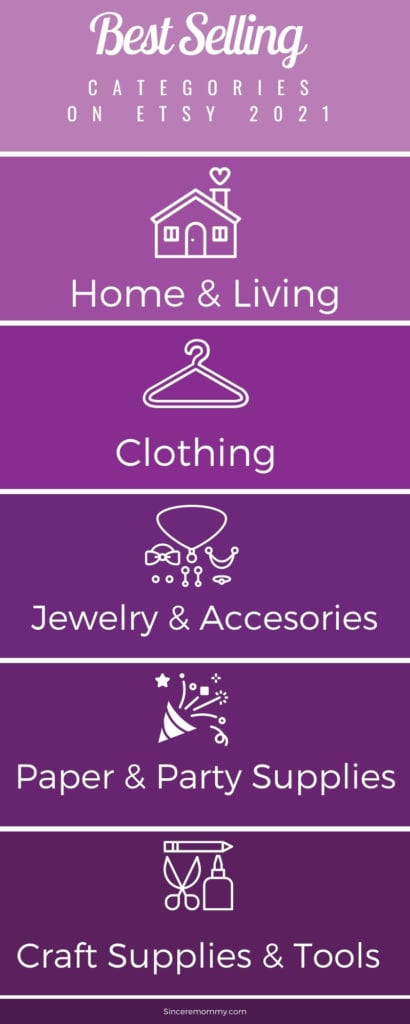 Home and Living
Home and living has increased in popularity likely due to many people being stuck at home or working from home. The home and living category typically sees a boost at the earlier part of the year and throughout the Spring. However, this category maintains popularity year round and especially now.
Many people view the new year as a chance to get organized and refresh their home and offices.
Popular Home & Living Items To Sell
Here I will list some of the most popular home & living items you could potentially make and sell. Home and living items will likely always maintain popularity for the most part.
Candles
Wall Art
Personalized Mugs
Furniture (Primarily desks and dining tables)
Outdoor & Garden Items (Painted rocks & garden signs)
Bath & Beauty (Soaps, lotions, ect.)
Candles made the top of the list and it is no wonder because candles are a billion dollar industry. Candles have been popular for years and I am sure they will only continue to be popular.
In my own experience selling on Etsy my candles sold quite well. I am highlighting candles because candles cost very little to produce in comparison to what they can be sold for.
With home & living trending mostly year round, highly in 2020, and still thriving in 2021 it would be a great bandwagon to hop on.
Want to try candle making? These posts may be of some help.
Best Scented Candles Recipe Using Essential Oils – Learn how to make amazing candle recipes with a basic how-to with popular scent combinations.
The Ultimate Guide To Make Money Selling Candles – Learn about a huge set of guides and resources that teach you all about making, marketing, and selling candles.
I'm Not Into Home Goods, What Else Can I Sell?
Ok so home goods is not your cup of tea. Here are items from the other top categories you could choose from.
Clothing
Clothing sells quite well on Etsy. Many people turn to Etsy for custom, vintage, or comfy clothes for around the house. This is especially true these days with so many working from home.
Clothing items to sell.
Custom T-shirts
Knitted/Crocheted Hats & Scarves
Vintage Items (20 years or older)
Custom t-shirts are easy to make if you own something like a Cricut Machine. You can choose a vinyl design easily, cut it out with your machine, and iron it on. It's that easy.
Owning a Cricut machine is an amazing resource that can help you make and create limitless designs. Unique or custom designs are so popular.
If t-shirt making with a Cricut sounds like something you'd like to try you can read my Cricut Explore Air 2 Review to learn more about it.
Jewelry & Accessories
Jewelry and accessories sell well on Etsy and are always making the list for top categories to sell from.
Jewelry & accessory items to sell.
Hair Accessories
Hats
Keychains
Bags
Diaper Bags
Body Jewelry
Bracelets
Earrings
Necklaces
Jewelry and accessories is such a fun category and there are so many things you can make with a number of materials. The competition for jewelry is often high because it is such a popular Etsy category.
Resin jewelry is quite popular these days with natural pressed flowers inside. It is one of my personal favorite crafts to work with.
If you choose to make jewelry and accessories you may find these posts helpful.
Make Eye-Catching Jewelry On A Budget – Learn about a great place to get affordable jewelry making kits, beads, and more.
20 Resin Crafts To Make And Sell – See a list of 20 resin crafts you can make including accessories and jewelry.
Paper & Party Supplies
Many people turn to Etsy for unique party and paper supplies. This is because of the custom nature of the items and handmade uniqueness that is hard to find in retail stores.
Paper & party supply items to sell.
Cards
Invitations
Stickers
Banners
Cake Toppers
Paper & party supplies sell well and are always among the top categories on Etsy. What is great about this type of item is it has very little overhead and obviously would be cheap to ship because of low weight.
Again, having a Cricut machine could prove invaluable to a business that sells this type of thing.
Still on the fence about a Cricut? I've outlined 7 great reasons to get a cutting machine if you'd like to check them out.
Craft Supplies & Tools
Another reason why people venture to Etsy is to get supplies to make things. These items come in a wide variety but seem to remain an evergreen category on Etsy.
Craft supplies & tools to sell.
Jewelry making beads
Craft kits
Soap making supplies
Nail art supplies
Paints, dyes, and glitters
The Second Approach – Little To No Overhead Expense
So you are trying to find the easiest things to sell on Etsy, but they all have one thing in common. They take money to make. Depending on your definition of "easy to sell" these products may be more your style.
For this reason I am going over this second approach. Digital products.
Digital Products Include Things Like
Printables (checklists & calendars)
SVG cut files (Like this mask SVG & dragon SVG)
Fonts
Sublimations
Planners
The biggest benefit to making digital products is that you have little to no overhead costs. You don't have to worry about shipping, and you can create most of them for free. Thus making them the easiest things to sell on Etsy in the sense of time, cost, and efficiency.
The only cost you would have initially is your Etsy listing fee. This is .20 cents per listing. Also keep in mind that Etsy will take 5% of your revenue for each purchase.
More Things To Consider Before Selling On Etsy
Before you jump into the world of Etsy selling I highly recommend you consider some things of importance. Etsy is not a get rich quick environment. It does take work to get off to a good start
What do you enjoy making/or are capable of making?
Consider your skills and ability when choosing a craft item to sell on Etsy. Trying to find the easiest thing to sell on Etsy should include careful consideration for what is easiest for you.
Can you make candles in a flash? Do you knit scarves in a matter of minutes? Do you love designing stickers? Are you brand new to everything?
Understanding your limitations and create realistic goals for yourself.
What is the cost of making my crafts?
This is something that many people overlook when trying to sell on Etsy. Consider all costs of the process before settling on a business plan.
How much are materials?
What tools do I need for the job?
How much will shipping cost?
How quickly can I produce items?
This is something even I have underestimated in the past. Knowing how quickly you can produce and ship an item is a huge factor in your Etsy success. Shipping items late can get you bad reviews and make your shop go downhill fast.
Find Items To Sell By Examining Trends
Now you know what categories are hot this year, but what exact items should you sell. One of the best things to do is figure out what is trending. At the time I am writing this it is nearly Valentine's day. Holiday themes are always a great idea to capitalize on.
How do I find what is trending currently?
You can easily access the trending now page on Etsy to discover trends and find out what is selling well. You also can find trends on Pinterest.
The reason I recommend finding out what is trending on Pinterest is because when it comes to marketing you will be able to promote items there that people are looking for! I highly recommend making a Pinterest business account and pinning images and links to your products.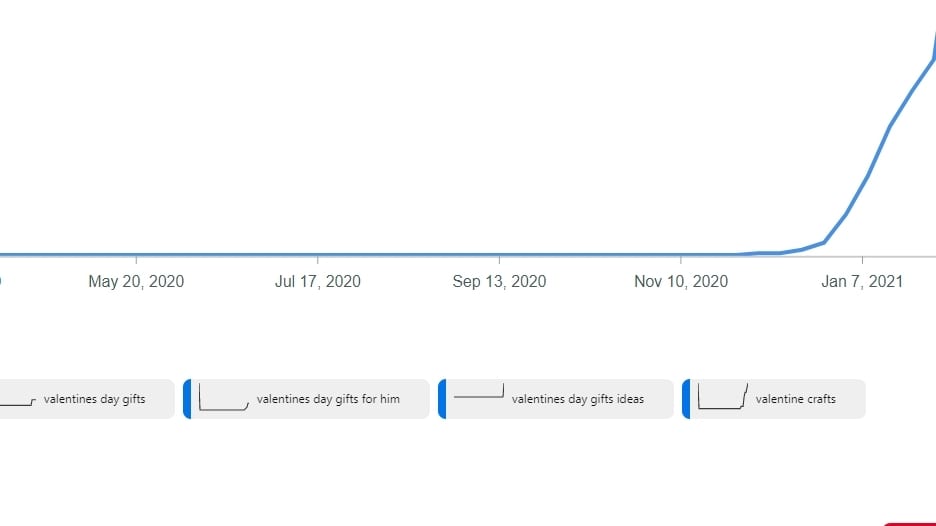 In Conclusion
If you are looking for the easiest things to sell on Etsy you should stick to the top selling categories I mentioned. Home and living, clothing, jewelry and accessories, paper and party supplies, or craft supplies and tools. Also, be sure to capitalize on holidays and occasions.
Alternatively make printable and other digital items to avoid the headache of overhead costs and shipping.
Pick items you are comfortable making quickly and efficiently. Learn how to follow trends and keep an eye on the current market.
All of these factors will determine what the easiest things to sell in 2021 will be for you.
I hope you find this post helpful & good luck on your Etsy shop endeavors!
Feel free to comment if you found this post helpful. Also if you have started an Etsy shop let me know how it goes! If you need ideas for how to market your products you can check out 10 Ways To Market Your Craft Products To Sell.